NYLPI Responds to Coronavirus
OUR IMPACT
Our committed staff of lawyers, community organizers, policy experts, and other advocates combine forces with 80 member firms, 900 pro bono attorneys, and thousands of community members. We marshal these resources to protect civil rights, fight systemic racism, and improve the lives of millions of New Yorkers. READ MORE >
Advancing Equality.
---
Demanding Justice.
---
Transforming Communities.
NYLPI and The Vera Institute of Justice will present a live discussion "Help vs. Harm: Mental Health and Public Safety Policy in New York" on Instagram on Tuesday, January 31 at 5 p.m. ET. Ruth Lowenkron, director of Disability Justice at NYLPI, will be joined by...
STREETSBLOG NYC | JANUARY 2023 Despite plans to create a new, centralized Commercial Waste Zone program that would improve the oversight of notoriously competitive and reckless waste carters, the Department of Sanitation has not implemented them yet. Many advocates...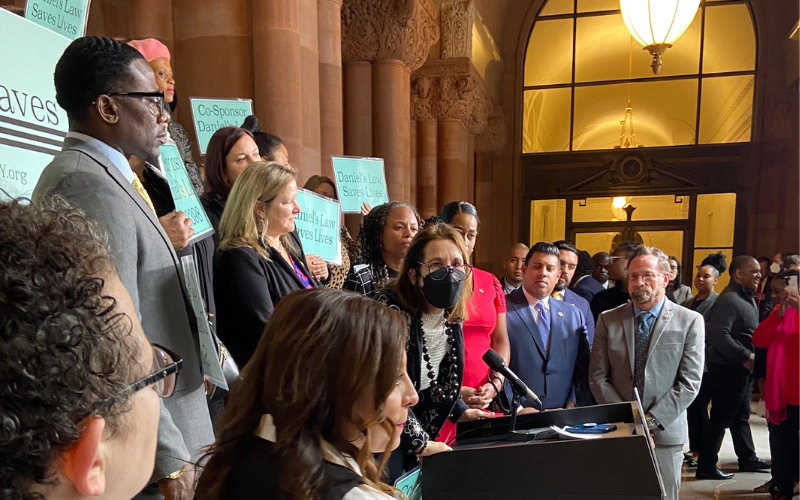 Ruth Lowenkron, NYLPI's Director of Disability Justice, spoke with legislators to rally support for Daniel's Law, a proposed law that aims to change police response during mental health crises. "The time for Daniel's Law is way overdue. We cannot allow one more death...
Anthony Karefa Rogers-Wright, NYLPI Director of Environmental Justice, testified before the New York State Senate Committees on Finance, Energy and Telecommunications, and Environmental Conservation regarding the Climate Leadership and Community Protection Act and the...
NYLPI and Co-Counsel File Federal Class Action to Remove Police as First Responders to Mental Health Crises
For Immediate Release: December 29, 2021 Contacts: David Kang 347-515-3311 [email protected]             Coalition Sues Mayor de Blasio for Failing to Provide a Safe, Non-Police Response to New Yorkers Experiencing Mental Health Crises NYPD has routinely violated...
LOOKING FOR HELP?
NYLPI offers a variety of assistance, from full legal representation to advice, referrals, and support with self-help materials. Let's find out how we can help you…

Stay up to date
Get updates on our cases and campaigns, and join us in taking action for justice…