Amsterdam News: Ruth Lowenkron Discusses Improving New York's Mental Health Services, Daniel's Law
September 20, 2023
Disability Justice, Health Justice, News, Transforming Mental Health Crisis Response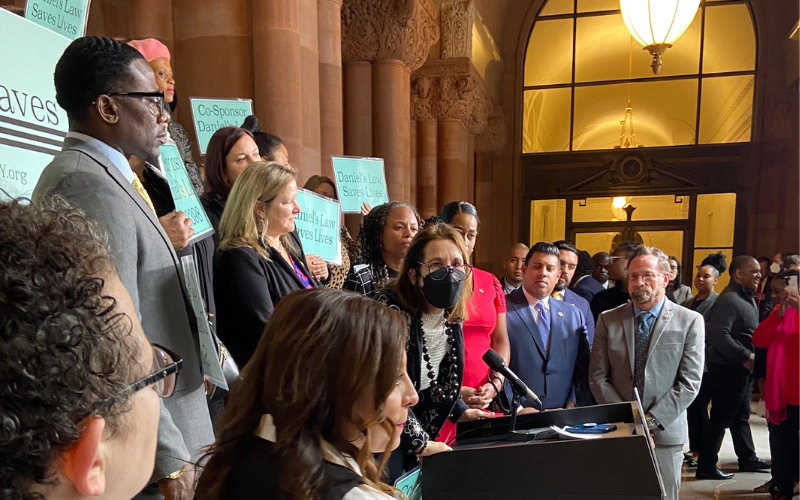 AMSTERDAM NEWS | SEPTEMBER 2023
Ruth Lowenkron, director of Disability Justice at NYLPI, was interviewed by Amsterdam News regarding transforming mental health crisis response services. NYLPI is also a member of the Daniel's Law Coalition, which has advocated for establishing Daniel's Law to replace police as first responders to crises, and replace them with trained peers – individuals with lived mental health experience.
The article discussed the upcoming Daniel's Day events in New York, which will commemorate the life of Daniel Prude on his birthday. In addition, Ruth spoke to this fact in the article that it is imperative to halt the frequent police violence in New York and to establish appropriate mental health services, explaining that Daniel's Law is the first step towards a functional mental health support system in New York.
"It's only a piece of the puzzle and we need to be improving our mental health services, so that we can limit the number of crises so that we have a place to refer someone once the crisis is deescalated. That's all a critical part of it. But we feel we have to focus on that moment of crisis…if people are literally dying because we're not getting it right [responding] to that crisis, we have to act quickly."
Lowenkron remains critical of the City's so-called non-police response, known as B-HEARD, due to the lack of around-the-clock coverage and the limited areas where non-police responses are made. 
Learn more via Amsterdam News.
Photo: Ruth Lowenkron speaks at a Daniel's Law Rally, alongside Daniel's Law bill sponsors Senator Samra Brouk, Chair of the Senate Committee on Mental Health, and Assemblymember Harry Bronson, and other supporters of Daniel's Law.

LATEST NEWS
Take Action
Here's what you can do right now for justice in New York…
Stay up to date
Get updates on our cases and campaigns, and join us in taking action for justice…