Raritan Baykeeper Inc. v. American Recycling Management LLC
Environmental Justice, Legislative, Raritan Baykeeper Inc. v. American Recycling Management LLC, Waste Equity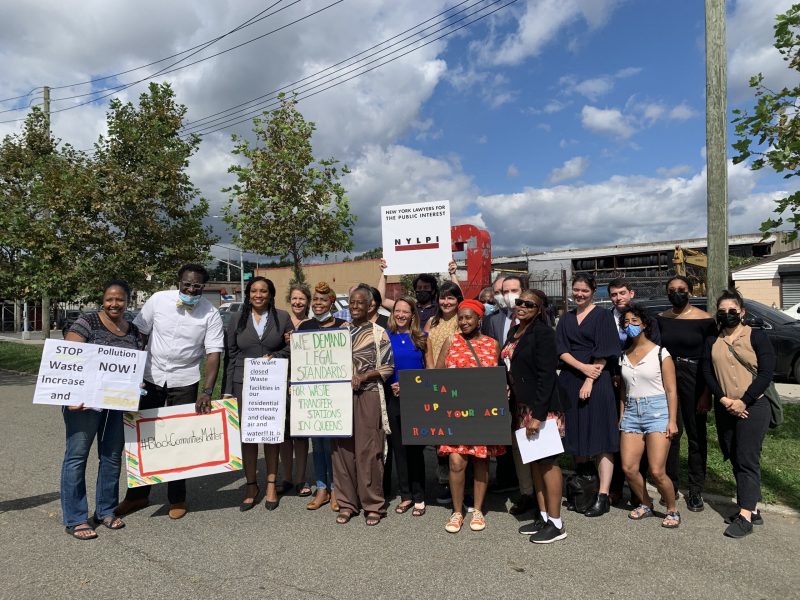 Pointing to decades of oppressive pollution impacting the community's quality of life, longtime Jamaica residents joined environmental advocates to file a Clean Water Act and nuisance lawsuit in the Eastern District of New York against polluting waste transfer facilities on Douglas Avenue in Jamaica, Queens.
New York Lawyers for the Public Interest, together with co-counsel environmental law firm the Super Law Group LLC, are representing residents of the surrounding community, as well as environmental organizations Riverkeeper and NY/NJ Baykeeper and their members in the lawsuit. The complaint details how the defendants, American Recycling Management LLC and Regal Recycling Co., Inc., are violating the Clean Water Act by discharging polluted stormwater into Jamaica Bay without the required National Pollution Discharge Elimination System permits. The case lays out how the unlawful practices at these garbage facilities daily impact the lives of the residents in the surrounding community, subjecting them to putrid odors, loud noises from truck traffic, repulsive puddles of garbage sludge on the sidewalk and streets, and excessive dust from processing construction and demolition materials. The lawsuit represents the latest step in NYLPI's community-driven campaign for waste equity.
Read the filed complaint here.

LATEST NEWS

RESOURCES
Take Action
Here's what you can do right now for justice in New York…
Stay up to date
Get updates on our cases and campaigns, and join us in taking action for justice…