Climate Works for All Calls for Stronger Rules and Equitable Implementation of Local Law 97 
November 14, 2022
Climate and Energy Justice, Environmental Justice, News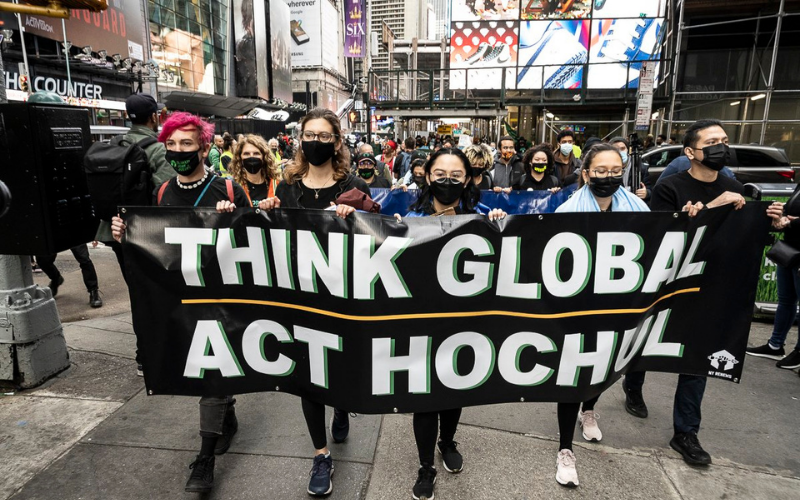 FOR IMMEDIATE RELEASE 
Climate Works for All Calls for Stronger Rules and Equitable Implementation of Local Law 97 
NEW YORK, NEW YORK [November 14, 2022] – Climate Works for All (CW4A), a coalition of over 25 local labor, faith, environmental, and climate justice groups, rallied today to call for stronger Local Law 97 (LL97) rules and implementation, including limitations on the purchase of Renewable Energy Credits (REC) and better definitions of 'good faith efforts' at compliance. The group gathered in advance of the Department of Buildings' (DOB) virtual public comments hearing on the Local Law 97 rulemaking process. In conjunction with the hearing, the Office of the NYC Comptroller released its report Cap the Credits: Strong Implementation of Local Law 97, NYC's Green New Deal for Buildings. Some of the Comptroller's data and analysis provided in the report, along with CW4A's grassroots bases, has informed CW4A's advocacy.
On October 6, the DOB released the first set of proposed rules for the implementation of LL97. The law–passed as a part of the Climate Mobilization Act of 2019–aims to reduce building emissions in New York City by 40% in 2030 and 80% by 2050, making it the strongest municipal climate law in the country.
"If implementation of Local Law 97 is successful, it could provide the city with an incredible opportunity to create thousands of good green jobs and move us towards our climate goals," Shravanthi Kanekal, a spokesperson for Climate Works for All said, "while directly investing in the reduction of harmful localized pollution levels in environmental justice communities."
Climate Works for All welcomed the release of technical details, such as DOB's decision to recalibrate the 2030 GHG limits and add an emissions factor of zero for 2050, which goes beyond the City's 80×50 goal. However, there are still many questions left to be answered about the law's implementation, such as the failure to sufficiently address the significant loophole of RECs. The proposed rules limit the purchase of RECs to utility electricity consumption that is delivered to the New York City grid but fall short of limiting the number of RECs that can be purchased by building owners to offset compliance with LL97. Permitting building owners to use unlimited RECs as a means for compliance will allow for continued localized emissions since the RECs can purchase renewable energy that may be sited outside of New York City limits.
The coalition calls for an equitable implementation of LL97 that prioritizes benefits, investments, and job creation in the communities who have historically suffered from air pollution, including the following: 
Renewable Energy Credit caps: The strictest possible cap on the use of RECs so LL97 remains focused on driving on-site improvements in buildings and doesn't become a default compliance pathway.
Funding incentives and support for residential buildings: The City needs to provide new financing tools and funding while supplementing the ones that already exist for building owners, especially smaller, independent, and affordable housing property owners.
Tenant protections: Elected officials should ensure LL97 holds building owners accountable, as intended in the law, without unfairly burdening tenants.
Job creation and workforce development: Limiting RECs incentivizes retrofits which in turn ensures LL97 delivers on the projected 141,000 jobs in the growing green jobs industry. The City must invest in successful high-quality, career-track employment and union-linked pre-apprenticeships, apprenticeships, and certification training programs.
Public awareness and education: In addition to the NYC Accelerator program, the City needs to provide more programs and services that engage building owners and tenants and help them better understand LL97 and the resources available.
This set of proposed rules and subsequent ones relating to the implementation of LL97 must meet the law's objective to decarbonize buildings without offering major alternative compliance pathways if New York City is to meet its carbon emissions reduction goals.
The Comptroller's Office's Cap the Credits: Strong Implementation of Local Law 97, NYC's Green New Deal for Buildings report provided a thorough examination of various Renewable Energy Credit limits and outlined a means for supporting affordable housing in the critical transition to powering these buildings with more renewable energy.
"New York City's Local Law 97 is the most ambitious building retrofit law in the country — but it will only work as intended if DOB amends its proposed rules to limit the pay-to-pollute 'Renewable Energy Credit' loophole and requires buildings owners to reduce emissions onsite. We have a historic chance to promote a just transition away from fossil fuels and to create thousands of good jobs in the process. Rather than letting our largest emitters buy their way out of retrofits, Local Law 97 implementation must structure incentives and financing options to achieve the emissions reductions needed for a greener, healthier New York City," said Comptroller Brad Lander.
CW4A demands that the City provide more programs and services for building owners and tenants to understand implementation of LL97–both the pathways to compliance and all of its implications. The group emphasized that the City also needs to act urgently to extend more training and workforce development opportunities, prioritizing the communities who have historically suffered the most from air pollution.
—
"New York City must continue to lead the way on transformative climate policy. The City Council passed Local Law 97 – the strongest municipal energy efficiency mandate in the nation – and now we are working alongside advocates to ensure a strong and equitable implementation of the law. Real energy efficiency investments will bring good local green jobs and reduce greenhouse gas emissions and pollution. We need to meet the urgency of the climate crisis!" – Council Member Sandy Nurse.
"Not only can New York be a world leader in sustainability and climate friendly policies, but we have already passed the law that would get us there — it just needs to be implemented as intended. Mayor Adams, you say you believe in public safety, public health, and a New York City where economic prosperity can be enjoyed by all. This is a test of your commitment to those principles. You can create jobs, reduce pollution, and strengthen our city's climate resiliency — or you can do the bidding of big time real estate moguls. Which side are you on?" – CM Tiffany Cabán.
"To tackle the urgent need to reduce pollution and health disparities, the Adams administration must ensure that Local Law 97 is fully implemented as envisioned by frontline communities. New York City can be the model for other cities to follow to radically reduce emissions while creating career jobs. We uplift the Comptroller's findings in their Cap the Credits report that we must get the LL97 rules right by tightly limiting Renewable Energy Credits to incentivize building retrofits." – Maritza Silva-Farrell, Executive Director of ALIGN: the Alliance for a Greater New York.
"The abundance of RECs that will be available in conjunction with the timeframe demands that DOB create a limitation on the number of RECs that can be purchased to ensure there is no buyout for commercial buildings. To allow this buyout would do a great disservice to the people of New York and to the environment." – Abby Kleiman, Special Program Assistant in Environmental Justice at New York Lawyers for the Public Interest.
"This first set of proposed rules fails to clarify what constitutes 'good faith efforts' and what will qualify for meeting compliance requirements. We are concerned that without any real measure of "good faith efforts", building owners will be able to skirt the law without making significant and necessary retrofits to their buildings to lower emissions. We ask that the Department of Buildings (DOB) and relevant City agencies strictly define what constitutes a "good faith effort" and allow minimal exceptions to ensure Local Law 97 is not weakened." – Lonnie Portis, Environmental Policy & Advocacy Coordinator, WE ACT for Environmental Justice.
"In 2019 the city declared a climate emergency and called for 'an immediate mobilization to restore a safe climate'. In 2021 New York State passed an environmental rights amendment: global warming is now a widely acknowledged fact. Just like every citizen, New York City's large building owners must comply with laws that protect a basic quality of life. The city's work is to keep educating, engaging and pressuring building owners, making sure they are aware of Local Law 97 as well as the opportunities and obligations it creates. There are so many great resources for building owners to learn about compliance requirements, established deadlines and funding sources – especially the NYC Accelerator – now we just need owners to step up and help the city move forward." – Georgi Page, Sr. Organizer, 350Brooklyn
"350NYC.org together with all NYC Climate and Environmental Justice groups strongly urge Mayor Adams to implement LL97 according to the timeline and intentions of this landmark bill. The transition to electrify heating and other services in large buildings away from fossil fuels has been slow to date. The incentives and penalties must operate fully to encourage building owners, not in compliance with emission limits, to start this process immediately." – Margaret Perkins, 350NYC.
"UHAB strongly urges Mayor Adams to implement LL97 according to the timeline and intentions of this landmark bill. We acknowledge that the City and utilities have created incentive programs to move buildings away from fossil fuels, however we advocate for higher levels of funding for affordable multifamily buildings to be able to reach the city's decarbonization goals. We also call for a strict cap on the use and availability of RECs for building owners, to ensure that LL97 remains focused on driving on-site improvements in buildings and goals to reduce local air pollution, generate thousands of local jobs and make our homes and workplaces healthier and more comfortable. In the meantime, we urge that the funds created by RECs be invested in accessible programs for affordable housing that allow low-income building owners to incorporate the energy conservation measures required by the law and maintain safe, healthy and sustainable housing."- Lucia Santacruz, UHAB
**************************************
The Climate Works for All coalition is a group of labor, community, faith, environmental justice, and climate organizations that have come together to fight climate change and inequality in NYC by demanding a Just Transition for workers and Environmental Justice communities. Our campaigns move us towards an equitable economy, a resilient, livable and healthy climate, and must prioritize justice for low income Black and Brown communities across New York City.
Climate Works for All Membership includes 350 Brooklyn, 350 NYC, AFSCME DC 37, ALIGN, El Puente, GOLES, IBEW Local 3, Jewish Climate Action Network NYC, People's Climate Movement NY, Professional Staff Congress CUNY, THE POINT CDC, New York City Environmental Justice Alliance, New York Lawyers for the Public Interest, New York State Nurses Association, Nos Quedamos, Sierra Club NYC, TreeAGE, UPROSE, Urban Homesteading Assistance Board, WE ACT for Environmental Justice
**************************************

LATEST NEWS
Take Action
Here's what you can do right now for justice in New York…
Stay up to date
Get updates on our cases and campaigns, and join us in taking action for justice…