Eman Rimawi-Doster Speaks at New York State Bar Association 2022 Partnership Conference
October 20, 2022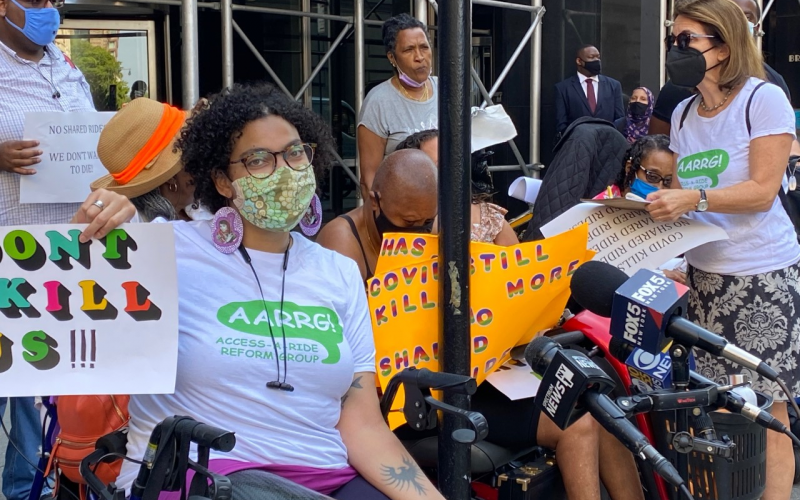 Eman Rimawi-Doster, NYLPI's Access-A-Ride Campaign Coordinator and Organizer
, recently spoke at the
New York State Bar Association (NYSBA) 2022 Partnership Conference about accommodations in the workplace for people with disabilities. Rimawi-Doster also urged NYSBA to create a virtual attendance option as COVID rates are on the rise.
She also explained that – because of her multiple disabilities – she was in a unique position to advocate for the importance of Access-A-Ride and for expanding access to Medicaid and equal employment to people with disabilities. 
"We need to connect people with disabilities to advocacy organizations that actually assist in finding employment, and we need to adequately fund those organizations… Employers must be aware of the requirements of disability laws and they must provide people with disabilities with the necessary supports and accommodations to perform their jobs… [We] can't truly say we're interested in public interest if we're excluding a massive part of our city."
Edwina Martin, one of the conference organizers, said "It was an incredible and powerful end to the panel, bringing the focus to the individual." 
NYLPI's Senior Social Worker Michelle Kraus was also a key contributor in planning the Conference and designing the structure of four workshops, including Eman's.

Read Eman Rimawi-Doster's full statement on our website.

LATEST NEWS
Take Action
Here's what you can do right now for justice in New York…
Stay up to date
Get updates on our cases and campaigns, and join us in taking action for justice…