ICE and Local Officials Pay $1.725M after "Discharging and Dumping" Immigrants With Mental Health Diagnoses
November 20, 2019
Charles v. Orange County, Charles v. United States, Health Justice, Health in Immigration Detention, Immigrant Justice, News, Press Release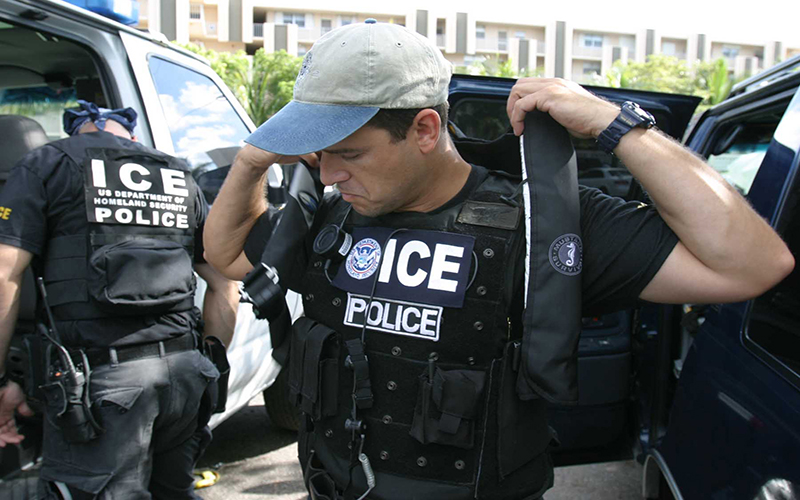 New York, NY, November 2019
—After two major wins on behalf of clients with mental illness who were "discharged and dumped" from Immigration and Customs Enforcement (ICE) detention onto New York's streets without plans for their ongoing mental health needs, civil rights group New York Lawyers for the Public Interest is announcing settlements of $900,000 and $825,000 respectively with Orange County and the United States.
Hayley Gorenberg, Legal Director of NYLPI, said: "ICE and Orange County devastated our clients' lives, and we sued to vindicate their rights to humane treatment, as well as to educate the world about these deep injustices. We hope that our wins prevent ICE and the county from ever treating people with mental illnesses in their custody so horrifically again."
ICE dumped Michelet Charles, diagnosed with bipolar and schizoaffective disorders, onto the streets of Lower Manhattan in 2015 with nothing more than his identification, after detaining him for a year. He rapidly decompensated and required two months of psychiatric hospitalization to recover.
Then, in January 2016, ICE dumped Carol Small onto the streets in below-freezing temperatures without any medication or treatment plan for her diagnosed paranoid schizophrenia, and just $80 in cash, after detaining her for eight months. Days after her release, she checked herself into an emergency room in Manhattan, desperate for help.
On behalf of Mr. Charles and Ms. Small, NYLPI, along with pro bono counsel at Simpson Thacher & Bartlett LLP, sued the United States under the Federal Tort Claims Act to hold ICE accountable for its failures, and sued Orange County for violating their clients' due process rights under the U.S. Constitution for the county's deliberate indifference to serious medical needs.
Both the U.S. and Orange County sought to have the cases dismissed, but courts ultimately rejected both attempts. Among other arguments, the U.S. government asserted that it was immune from being sued because, after ICE detained the plaintiffs, the government delegated its responsibility to a local jail facility. The county argued that it did not show deliberate indifference to the plaintiffs under the Fourteenth Amendment of the U.S. Constitution. (*For more detail, please see the note to editors, below.)
"We are pleased that ICE and Orange County have agreed to compensate the plaintiffs in these cases. We hope this positive resolution serves as a deterrent towards future mistreatment of detainees at the hands of local and federal government agencies, but also as a reminder of the importance of adhering to humane treatment standards for all individuals," said Thomas Rice from the law firm of Simpson Thacher & Bartlett LLP. The Simpson Thacher team was led by Daniel Stujenske, Esinam Agbemenu and Richard Walker.
Note to editors
*Click here for more information on a judge's denial in March 2019 of the U.S.'s motion to dismiss in this case.
*Click here for more information on rulings, including the Second Circuit Court of Appeals decision, against the county's motion to dismiss in this case.
About New York Lawyers for the Public Interest (NYLPI)
Founded more than 40 years ago by leaders of the bar, New York Lawyers for the Public Interest is a community-driven civil rights organization that pursues equality and justice for all New Yorkers. NYLPI works toward a New York where all people can thrive in their communities, with quality healthcare and housing, safe jobs, good schools, and healthy neighborhoods. In NYLPI's vision, all New Yorkers live with dignity and independence, with the resources they need to succeed. NYLPI's community-driven approach powers its commitments to civil rights and to disability, health, immigrant, and environmental justice. NYLPI seeks lasting change through litigation, community organizing, policy advocacy, pro bono service, and education.
In partnership with immigrant communities and organizations, a key part of NYLPI's Health Justice work focuses on ending immigration detention and the health abuses rampant in detention.
About Simpson Thacher & Bartlett, LLP
Simpson Thacher & Bartlett LLP (www.simpsonthacher.com) is one of the world's leading international law firms.  The Firm was established in 1884 and has more than 900 lawyers.  Headquartered in New York with offices in Beijing, Hong Kong, Houston, London, Los Angeles, Palo Alto, São Paulo, Tokyo and Washington, D.C., the Firm provides coordinated legal advice and transactional capability to clients around the globe.
For more information, please visit www.nylpi.org.
###

LATEST NEWS
Take Action
Here's what you can do right now for justice in New York…
Stay up to date
Get updates on our cases and campaigns, and join us in taking action for justice…