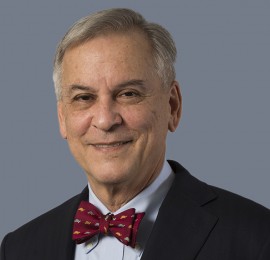 John S. Siffert is a founding partner of Lankler Siffert & Wohl and has been described as "a classic counselor who is also a superb trial lawyer."
Siffert has an active civil and criminal litigation practice, appearing in the New York State and federal courts. He also represents law firms and lawyers before the Attorney Grievance Committee and advises corporate boards and special committees.
Siffert also has an active ADR practice. He is a FCIArb and serves on the CPR panel of Distinguished Neutrals and the SDNY Mediation Panel. Siffert is the Special Master in Gulino v. BOE, tasked with recommending damages awards for 4500 class members.
Chief Justice John Roberts appointed Siffert to two terms on the Judicial Conference Advisory Committee on Criminal Rules from 2012-18. Siffert is a Fellow and former Regent of the American College of Trial Lawyers.
Siffert is an Adjunct Professor at New York University School of Law and co-author of Sand, Modern Federal Jury Instructions.
Siffert is on the Emeritus Board of the NYLPI and previously served as Chair. He also is on the boards of the Practising Law Institute, the Supreme Court Historical Society, and the Historical Society of the New York Courts.
Siffert has received the 2009 American Inns of Court Professionalism Award for the Second Circuit, the 2014 Healing and Hope Award from the Campaign for the Fair Sentencing of Youth, the 2018 George A. Katz Torch of Learning Award from AFHU, and the 2018 Albert Nelson Marquis Lifetime Achievement Award.


David Zapolsky is Senior Vice President, General Counsel and Secretary of Amazon where he manages a broad range of domestic and international legal, compliance, and regulatory affairs for the company. Before becoming General Counsel in 2012, he served for thirteen years as Associate General Counsel, leading Amazon's Litigation and Regulatory group and advising on a wide variety of litigation, privacy, consumer protection, competition law, securities regulation, intellectual property, and labor and employment matters.
Prior to joining Amazon in 1999, Zapolsky was a litigation partner in the Seattle offices of Dorsey & Whitney and Bogle & Gates. He moved to Seattle in 1994 from New York, where he served as an Assistant District Attorney in the Brooklyn District Attorney's Office, focusing primarily on sex crimes, child abuse, and domestic violence prosecutions, and an associate at Wachtell, Lipton, Rosen & Katz, where he practiced securities litigation and white collar defense.  He is a graduate of Berkeley Law and Columbia College.
In addition to his work at Amazon, Zapolsky is active in several civic, educational, and legal organizations that, among other things, seek to promote diversity and pro bono work in the legal profession. He serves as President of the King County Bar Foundation, a Member of the Kids in Need of Defense (KIND) Washington State Advisory Committee, a Director of the Berkeley Law Alumni Association, a Corporate Advisory Member of the National Legal Aid & Defender Association, a Member of the Leaders Council for the Legal Services Corporation, and a Director of Seattle's Alliance for Education. In 2013, he founded the Amazon legal department's pro bono initiative, also known as the Amazon Justice League, which encourages and enables Amazon attorneys and legal professionals around the world to donate thousands of hours of pro bono legal work each year.
Past Honorees Include:
2019     Kim Koopersmith and Vanita Gupta
2018     Mary Beth Hogan and Gregory K. Palm
2017     Markus U. Diethelm and Martin Flumenbaum
2016     Brian Moynihan and John F. Savarese
2015     Carey R. Dunne and Don H. Liu
2014     Peter J. Beshar and Andrew J. Levander
2013     Steven A. Reiss and Jane C. Sherburne
2012     Stephen M. Cutler and Karen Patton Seymour
2011      Evan R. Chesler and Brackett B. Denniston III
2010     Michael S. Helfer and Theodore V. Wells Jr.
2009    Gary P. Naftalis
2008    Bernard W. Nussbaum
2007    Bettina B. Plevan
2006    Zachary W. Carter
2005    Kenneth R. Feinberg
2004    Richard J. Davis
2003    Mary Jo White
2002    Richard I. Beattie
2001     Sheila L. Birnbaum
2000    Evan A. Davis
1999     Dean John D. Feerick
1998     Robert B. Fiske, Jr.
1997     The Honorable A. Leon Higginbotham, Jr.
1996     The Honorable Mario M. Cuomo
1995     The Honorable Ruth Bader Ginsburg
1994     Drew S. Days, III