Health Justice Talks: Safety & COVID-19 Vaccination for Children
June 29, 2022
Coronavirus, Health Justice, News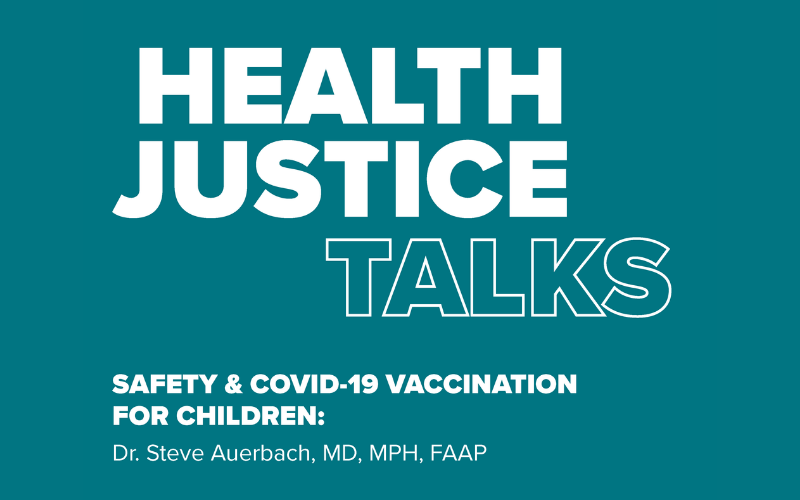 NYLPI's Health Justice team is excited to share the fourth installment of NYLPI's Health Justice Talks: 
Safety & Covid-19 Vaccination for Children
. 
Dr. Steve Auerbach
, MD, MPH, FAAP, Pediatrician and known Public Health Doctor, provides important information and answers questions about the current state of covid-19 vaccination and safety for children.
COVID-19 vaccines are safe and highly effective at preventing severe illness, hospitalizations, and death. As vaccination eligibility expands for children 6 months and older, it is critical that parents and guardians of children have access to reliable and updated information on vaccination and safety for their loved ones. For more information on the new vaccination eligibility and how to access a vaccine for your child, please see the below resources.
*Please note, this webinar is in English, but closed captioning is available in multiple languages. Click on the settings option, subtitles/cc and auto-translate, to choose the language of your preference. In addition, the resources offered can also be accessed in multiple languages by scrolling to the bottom of the page and choosing the preferred language.
*Tenga en cuenta que este video informativo de Youtube está en inglés, pero permite subtítulos en varios idiomas. Haga clic en la opción de configuración, subtítulos/cc y traducción automática, para elegir el idioma de su preferencia. También se puede acceder a los recursos ofrecidos en varios idiomas desplazándose hasta la parte inferior de la página y eligiendo el idioma preferido.
Resources for Parents: COVID-19 Vaccines for Children
COVID-19 Vaccines for Children 6 Months and Older:
​https://covid19vaccine.health.ny.gov/covid-19-vaccines-children-6-months-and-older
Get the Vaccine:
https://www.vaccines.gov/search/

Frequently Asked Questions on Vaccines for Children:
https://covid19vaccine.health.ny.gov/frequently-asked-questions-all-children-6-months-and-older

Why Babies, Children and Teens Should Get Vaccinated Against COVID-19:
https://covid19vaccine.health.ny.gov/what-you-need-know-0

LATEST NEWS
Take Action
Here's what you can do right now for justice in New York…
Stay up to date
Get updates on our cases and campaigns, and join us in taking action for justice…