Medical Providers Network Op-Ed Calls on ICE to Halt Arrests and Release People Who Are Detained
May 11, 2020
Coronavirus, Health Justice, Health in Immigration Detention, Immigrant Justice, Media Coverage, News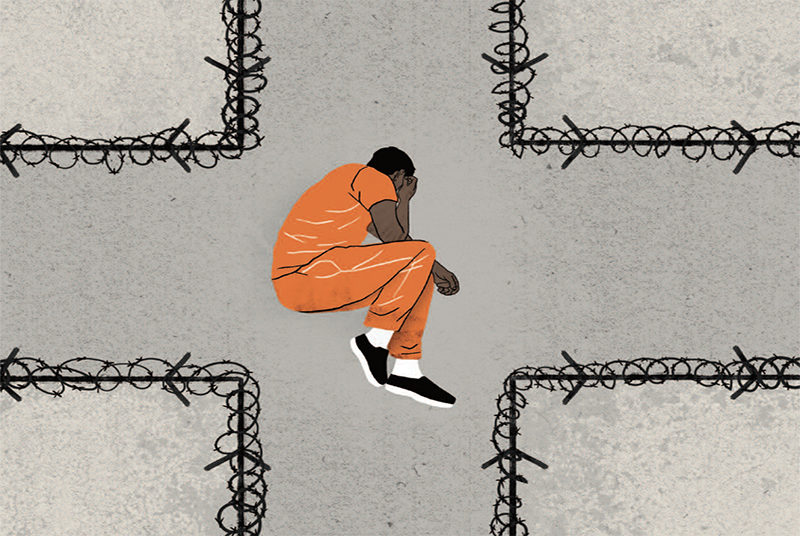 NY Daily News published
an important op-ed
by New York City doctors, and members of NYLPI's Medical Providers Network, on the life-threatening risks posed to people in immigration detention facilities and local jails during the COVID-19 global health crisis. The physicians have first-hand knowledge of the devastation caused by the virus and are outraged by ICE policies to continue arresting and detaining people in overcrowded facilities that pose grave risks to those confined, their employees, and to the larger community. The authors, along with thousands of healthcare professionals,
call on ICE to halt new arrests and immediately release people from detention.
NY Daily News
Immigration detention is a public health hazard
May 7, 2020
Dr. Nathaniel Kratz, Dr. Chanelle Diaz and Dr. Xavier Pereira
As physicians who work in New York City hospitals, we are witnessing how COVID-19 is ravaging the communities we serve. The only way to slow this pandemic is to stop the transmission of the disease. Yet despite everything we know about how the virus spreads and the unprecedented sacrifices workers have made to slow the spread, Immigration and Customs Enforcement (ICE) continues to endanger the lives of over 40,000 immigrants in more than 200 jails and prisons nationally. Most people in immigration detention have committed no criminal offense and have been deemed by ICE to pose no danger, yet they are held arbitrarily pending disposition of their asylum claims or deportation orders.

ICE must immediately release all detained individuals and halt raids in order to protect already vulnerable immigrant populations and the communities that surround them. Especially here in New York and New Jersey, two of the states with the highest rates of coronavirus deaths, this is essential to protect our overwhelmed health systems.

The virus is spreading quickly in overcrowded detention facilities in the nation's jails and prisons, including here in the New York City area. Rikers Island jail has an infection rate of 9.56% — seven times higher than that of New York City itself. Hudson County jail reported four staff members have died from COVID-19, and ICE reported nine detainees and one agency employee tested positive. Testing is limited and the numbers are undoubtedly much higher than reported. ICE recent revealed the first person has died from COVID-19 in their custody; this is likely the first of many. While we are told to practice social distancing and maintain hygiene, detained individuals are crammed together in cells or dormitories without access to hand sanitizer, sufficient soap and water, or adequate medical care. Ten people have died in ICE custody in fiscal year 2020, more than the number of lives lost the entire previous fiscal year. ICE has a well-documented history of failing to adhere to any recognized standards for prevention, screening, and containment of infectious disease, or even to its own National Detention Standards.

This status quo of deadly neglect takes on a new meaning during a pandemic. According to John Bruning, an immigration attorney who has been tracking COVID cases among ICE detainees, since ICE reported the first COVID-19 cases on March 26, detainee cases have grown by 22% daily; detention staff cases have grown by 10.8 % daily; and the number of facilities with cases has grown by 9.25 % daily. There are now at least 41 facilities with COVID-19 cases, 34 with active quarantines, and 674 confirmed cases of COVID-19 among individuals in ICE custody. The numbers continue to rise rapidly. In desperation, people have resorted to hunger strikes to obtain soap. Rather than release people, ICE continues detaining more undocumented immigrants.

Beyond subjecting detained individuals to dangerous conditions, ICE continues tracking down and detaining people whose only charge is a civil immigration offense. On March 18, ICE arrested Jorge in New York, dragging him from a foster shelter into adult detention. His crime? He had turned 18 that day. Jorge, like so many others in ICE detention, now faces the possibility of a death sentence should he contract COVID-19. During raids, ICE officers use precious personal protective equipment, which is severely lacking in hospitals across the country. This takes away resources from health-care workers, who are at a much higher risk of COVID-19 exposure.

In any context, raids of undocumented people and their incarceration in dangerous facilities are moral outrages. In the context of a pandemic, it is a mortal danger, both to the individuals and communities at large. ICE's senseless policies of detention at any cost are directly undermining efforts to flatten the curve and threaten public health.

As physicians on the frontlines, we risk our lives in medical centers and improvised field hospitals, and our colleagues are terrified of getting sick. Other essential workers also risk their lives and put their families at risk. The economy is largely paralyzed. Yet, even with mass mobilization to stop COVID-19's deadly spread, ICE hasn't budged from its business-as-usual approach of neglecting health and safety and endangering lives.

We feel strongly that the current immigration policy is immoral. But even those who approve of this administration's immigration policies should be infuriated by actions putting their families and communities at risk. With the largest immigration detention system in the world, our government has created a tinderbox. The clusters of COVID-19 infections in detention will spread like wildfire among an already vulnerable population, including in New York City-area facilities, given the crowded conditions, lack of access to basic hygiene, and inadequate medical care.

To slow the spread and save lives, we must control and eliminate the hotspots of transmission. We, along with thousands of medical professionals, urge ICE to immediately release all detained individuals and halt the raids.

Kratz is an instructor medicine at Columbia University Irving Medical Center, attending physician at New York-Presbyterian Hospital, and a member of the New York Lawyers for the Public Interest Medical Providers Network. Diaz is an attending physician in internal medicine at Montefiore Medical Center and a volunteer with the New York Lawyers for the Public Interest Medical Providers Network. Pereira is chief resident in general surgery at Montefiore Medical Center.

LATEST NEWS
Take Action
Here's what you can do right now for justice in New York…
Stay up to date
Get updates on our cases and campaigns, and join us in taking action for justice…