New NYLPI Report: Pandemic Underscores City Deadline for Text-to-911 Emergency Services
April 14, 2020
Criminal Justice, Deaf Justice Coalition, Disability Justice, Media Coverage, News, Press Release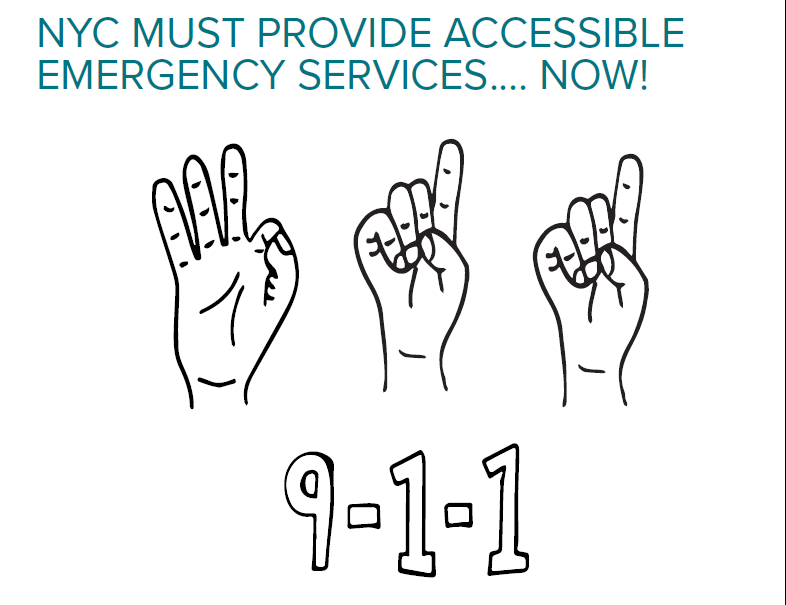 New Report Calls on NYC Authorities to Implement Text-to-911 As Coronavirus Crisis Continues.
The report from New York Lawyers for the Public Interest highlights the increasingly urgent need for an accessible emergency system and offers recommendations for implementation by June deadline.
New York, NY – April 14, 2020 — Leading civil rights organization New York Lawyers for the Public Interest today released a report that underscores the importance of the City's pledge to provide accessible Text-to-911 by June 2020 and offers recommendations for implementation. Text-to-911 allows people to reach 911 with a text message, making emergency services accessible for anyone with a communication-related disability, such as the Deaf and Hard of Hearing communities, and those who can text more readily than call. The report highlights the more urgent need for a Text-to-911 system amid the coronavirus crisis, discusses the impact of the system in other localities, and offers recommendations for implementation in New York City.
This February, following years of advocacy, oversight proceedings, and litigation, New York City committed to implementing Text-to-911 by June 2020. This was a critical step toward increasing the accessibility of emergency services, especially for the Deaf and Hard of Hearing communities and others with communication-related disabilities for whom New York City's 911 emergency services are completely inaccessible. Longstanding federal, state, and local anti-discrimination laws require that all of New York City's services, including emergency 911 services, are accessible to people with disabilities. By implementing Text-to-911, the City will finally fulfill its legal obligation and join the thousands of other communities with Text-to-911 systems in place.
"The New York City authorities have the clear legal responsibility to ensure that 911 emergency services are available to all New Yorkers in crisis," said Maureen Belluscio, Senior Attorney in NYLPI's Disability Justice Program. "Text-to-911 will not only save the lives of Deaf New Yorkers, but will support the frontline 911 operators during the unprecedented COVID-19 pandemic."
With the COVID-19 pandemic threatening New York City, it is imperative that 911 emergency services be accessible to all New Yorkers. Text-to-911 will eliminate the need to communicate using spoken language and remove the need for an intermediary to receive responses from 911.
While the report focuses on the need for Text-to-911 to make emergency services more accessible for the Deaf and Hard of Hearing communities and other people with disabilities, Text-to-911 is critical for everyone. The system allows people to contact emergency services in situations where they cannot make a phone call. This includes people confronting a situation where they must remain silent, such as a hostage situation, an active shooter emergency, or in cases of domestic violence. The system also supports people who have limited English proficiency and anyone else who can text more easily than they can call.
The full report is available here. For more information, please visit www.nylpi.org.
For Immediate Release
Contact: Genevieve Friedman 212 784 5709
[email protected]
About New York Lawyers for the Public Interest (NYLPI)
Founded more than 40 years ago, New York Lawyers for the Public Interest is a community-driven civil rights organization that pursues justice for all New Yorkers. NYLPI works toward a New York where all people can thrive in their communities, with quality healthcare and housing, safe jobs, good schools, and healthy neighborhoods. In NYLPI's vision, all New Yorkers live with dignity and independence, with the resources they need to succeed. NYLPI's approach powers its commitments to civil rights and to disability, health, immigrant, and environmental justice. NYLPI seeks lasting change through litigation, community organizing, policy advocacy, pro bono service, and education.
NYLPI's Disability Justice Program has represented thousands of people and triumphed in countless campaigns that have improved the lives of New Yorkers with disabilities. Access to government services for people with disabilities is a critical part of our work. NYLPI represents the Deaf and Hard of Hearing communities, as well as others in the broader disability community, in matters involving the need for access and reasonable accommodations. We have represented clients whose medical providers failed to provide interpreter service during medical appointments. In 2010, in response to patterns of discrimination against members of the Deaf community, NYLPI helped convene a coalition of organizations—the Deaf Justice Coalition — to identify communication and cultural barriers, to organize with the Deaf community and Deaf rights advocates, and to develop legal and legislative responses to pervasive failures by New York City government with respect to the Deaf community. Together with the Deaf Justice Coalition we advocated for the New York Police Department to provide interpreters during interactions with the Deaf community.
###
Press Coverage
New York Daily News: NYC still launching text-to-911 service in June despite coronavirus pandemic
"…coronavirus has demonstrated just how important the new texting service is for those who can't easily access the existing 911 system, according to a report released Tuesday by the New York Lawyers for the Public Interest.

Not only are 911 operators fielding more emergency calls from vulnerable and sick New Yorkers, but survivors of domestic violence may be forced to quarantine at home with their abusers to stop the spread of the virus.

"The New York City authorities have the clear legal responsibility to ensure that 911 emergency services are available to all New Yorkers in crisis," said Maureen Belluscio, senior attorney in the group's Disability Justice Program. "Text-to-911 will not only save the lives of deaf New Yorkers, but will support the frontline 911 operators during the unprecedented COVID-19 pandemic."
Crain's New York Business: As hospitalizations trend down, facilities 'cautiously optimistic'

LATEST NEWS
Take Action
Here's what you can do right now for justice in New York…
Stay up to date
Get updates on our cases and campaigns, and join us in taking action for justice…