NYLPI Advocates for Transgender and Non-Binary People in Albany For LGBTQI Advocacy Day
April 28, 2022
Community Justice, Health Justice, News, UndocuCare TGNCI+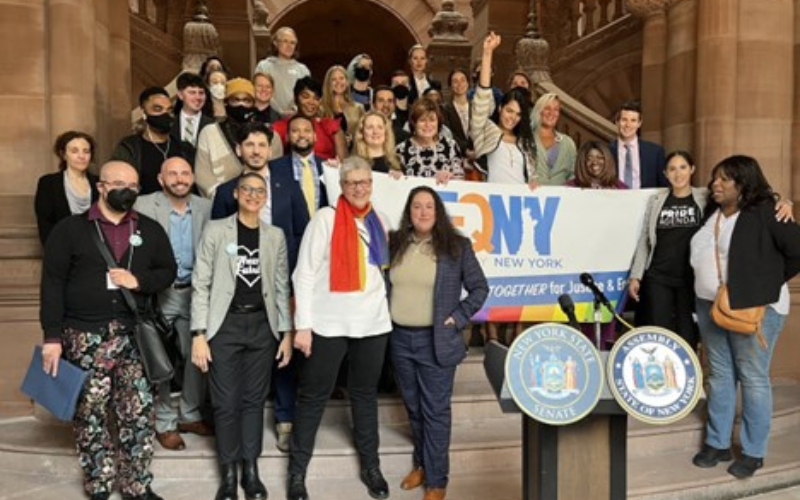 NYLPI Legal Fellow Arielle Wisbaum, an immigration attorney in the UndocuCare TGNCI+ project, joined the Equality New York Coalition (EQNY) in Albany to meet with elected officials and advocate for legislation that will lead to a more equitable community for all LGBTQI (Lesbian, Gay, Bisexual, Trans, Queer, and Intersex) New Yorkers. NYLPI's TGNCI+ project

supports TGNB New Yorkers and persons living with HIV access healthcare via immigration advocacy.
Informed by our clients' experiences, among the policies NYLPI advocated for is the Gender Identity Respect,
Dignity, and Safety Act (S6677/A7001B),
which requires correctional facilities to house transgender, gender non-conforming, non-binary, and intersex individuals consistently with their gender identities; ensures that correctional officers and staff address people by their chosen names and pronouns; guarantees people access to commissary items, clothing, and other materials that are consistent with their gender identities; and establishes a right to be searched by officers of the same gender identity. The bill also includes a fourteen-day limit on involuntary protective custody or solitary confinement and enables people to opt-out of being housed consistently with their gender identity if they have overriding safety concerns.
Dozens of advocates and community members from around the state gathered in Albany and online to support this year's advocacy theme, "Leave No One Behind: Protecting and Empowering the Most Vulnerable Community Members," with policy priorities and panel events that emphasized those in the LGBTQI community who disproportionately get left behind: transgender and non-binary (TGNB) individuals, specifically TGNB Black and Brown individuals, and LGBTQI youth. 
In partnership with the NEW Pride Agenda, Advocacy Day panelists also discussed the importance of the recently introduced Lorena Borjas transgender and gender non-binary (TGNB) wellness and equity fund (A9418), which would achieve economic justice by thoroughly investing in New York's TGNB communities, ensuring equity in access to vital resources and the ability for TGNB New Yorkers to thrive. The equity fund would be crucial to those the UndocuCare TGNCI+ project serves by allocating funds to programs that coordinate inclusive healthcare for those who identify as transgender, non-binary, non-conforming or intersex, and by increasing the capacity of healthcare professions to effectively provide gender-affirming care.  
You can read more about Advocacy Day 2022 and the legislation on EQNY's policy agenda here. 

LATEST NEWS
Take Action
Here's what you can do right now for justice in New York…
Stay up to date
Get updates on our cases and campaigns, and join us in taking action for justice…