NYLPI Supports NYC 25×25 Initiative
March 10, 2021
Campaign, Community Justice, Disability Justice, News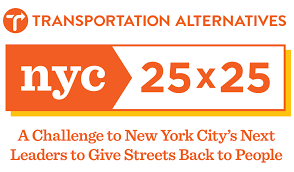 NYLPI 
announced 
its 
support
 for the NYC 25×25 initiative, spearheaded by Transportation Alternatives, which challenges NYC leaders to convert 25% of NYC streetscape
used for car traffic and parking
to pedestrian spaces by 2025. The initiative
,
supported by over 80 local organizations
,
addresses the fundamental inequity of
 having
NYC
's
91
-plus
 square miles of public 
space
dominated
 by 
driving and parking 
cars
 – owned by
a minority of 
City 
residents
.
Moreover, as Christopher Schuyler, Senior Staff Attorney with the Disability Justice Program, stated in the March 1 press release, "repurposing 25 percent of the City's streets to increase pedestrian spaces would benefit all New Yorkers, including people with disabilities, seniors, and others with mobility impairments. Currently, the City's sidewalks and pedestrian spaces are narrow and often impassable for people with disabilities, a group which includes nearly 1 million New Yorkers. Especially now, as the City recovers from the COVID-19 crisis, improving the accessibility of the City's pedestrian spaces will enable all New Yorkers to participate in the City's rebuild — and fully enjoy its benefits!"
Schuyler also spoke on a panel hosted by Transportation Alternatives regarding their report – which he assisted in writing – calling for 25 percent of car space to be converted into space for people by 2025. You can read the full report on Transportation Alternatives' website. The report was covered in Slate, Gothamist, and Streetsblog. 
Click here to read the full NYC 25×25 report.  

LATEST NEWS
Take Action
Here's what you can do right now for justice in New York…
Stay up to date
Get updates on our cases and campaigns, and join us in taking action for justice…