Warning
: call_user_func_array() expects parameter 1 to be a valid callback, class 'Tribe__Events__Query' does not have a method 'pre_get_posts' in
/home/customer/www/nylpi.org/public_html/wp-includes/class-wp-hook.php
on line
307
Community Justice
what we do
Through our community-driven civil rights model we have developed a track record of successful legal expertise focused on health, disability, immigration, racial, and environmental justice. Some key community priorities and barriers defy simple categorization, fall between and across program areas and labels, and require multidisciplinary approaches and multi-year commitments. NYLPI does not shy away from these difficult problems; in fact, we seek them out to have the highest impact. Our commitment to Community Justice embodies NYLPI's longstanding mission to engage in community lawyering that brings the full measure of our staff's talents to meet priorities identified by our community partners.
GET HELP
We offer free legal representation to community organizations and groups of individuals fighting for a more just and equitable New York. Please call: (212) 244-4664, Monday – Friday, 10:00 a.m. – 3:00 p.m.

RESOURCES
Stay up to date
Get updates on our cases and campaigns, and join us in taking action for justice…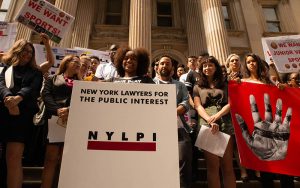 L.P. v. NYC Dept of Education
In this putative class action, NYLPI represents student-led organization IntegrateNYC and Black and Latino students denied access to NYC public high school sports.