Landmark Racial Discrimination Lawsuit Against NYC DOE Clears Major Legal Hurdle
September 11, 2020
Education, Environmental Justice, News, Press Release, Sports Equity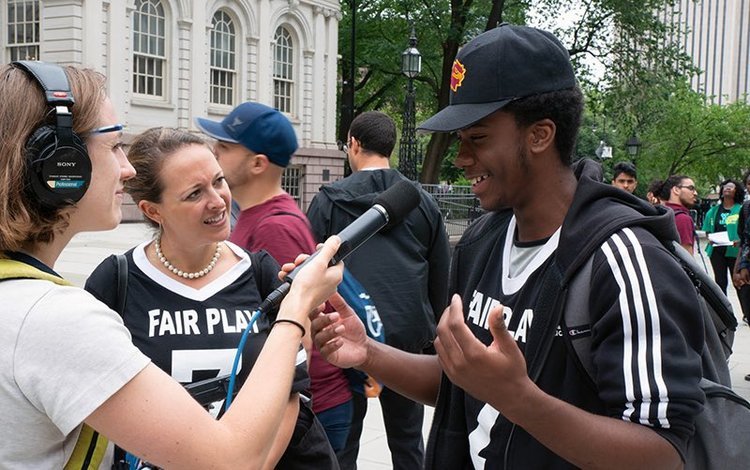 NYLPI's landmark
racial discrimination lawsuit
against the NYC Department of Education (DOE) and Public School Athletic League (PSAL) cleared a major legal hurdle when it was certified as a class action lawsuit this week. The filing of a
First Amended Complaint
and the
Stipulation
certifying the class represent the latest step forward in the two-year-old racial justice litigation brought by NYLPI challenging PSAL and DOE policies regarding distributing after school sports teams. The stipulation certifying the suit as a class action, which was signed by the judge on September 10, 2020, confirms that the lead plaintiffs will represent "all present and future Black and Latino New York City high school students who attend a DOE high school and who are or become eligible for participation in high school sports."
Senior Staff Attorney Melissa Iachan, who is the lead attorney in the lawsuit, noted the importance of proceeding on behalf of tens of thousands of Black and Latinx students. In the press release announcing this latest development in the case, Melissa said, "We are now one step closer to achieving transformative change for all future Black and Latinx public high school students who simply want the same opportunity to play and compete in a variety of sports. The power of this student-led movement has been validated by the lawsuit's legal status as a class action trying to bring about change for all Black and Latinx high school students, and our lead plaintiffs will continue to inspire as we stand together in this fight for progress and equity."
N E W S R E L E A S E
For Immediate Release
Contact:
Genevieve Friedman 212 784 5709
[email protected]
Press Release: Landmark Racial Discrimination Lawsuit Against NYC DOE Clears Major Legal Hurdle
A race discrimination case against the NYC Department of Education and the Public Schools Athletic League seeking equal access to interscholastic sports will proceed as a class action for all New York City Black and Latinx public high school students
New York, NY – [September 10, 2020] — Civil rights organization New York Lawyers for the Public Interest (NYLPI) filed documents this week in the New York Supreme Court allowing their lawsuit against the New York City Department of Education (DOE) to proceed as a class action with new lead plaintiffs. The filings, including a First Amended Complaint and a stipulation by all parties agreeing that the case shall proceed as a class action lawsuit, represent the latest step forward in the two-year-old landmark litigation brought by students challenging Public School Athletic League (PSAL) and DOE policies regarding distributing after school sports teams. NYLPI, along with pro bono co-counsel firms Patterson Belknap Webb & Tyler LLP (Patterson) and Emery Celli Brinckerhoff Abady Ward & Maazel LLP (Emery Celli), are representing the class representatives and organizational plaintiff IntegrateNYC, a youth-led organization that stands for integration and equity in New York City schools, in the lawsuit.
The stipulation certifying the suit as a class action, which was filed today, confirms that the lead plaintiffs will represent "all present and future Black and Latino New York City high school students who attend a DOE high school and who are or become eligible for participation in high school sports." The recent filings in the case, which was initiated in June 2018, come during a time of uncertainty surrounding when and how PSAL sports will resume for high school students in New York City.
"We are now one step closer to achieving transformative change for all future Black and Latinx public high school students who simply want the same opportunity to play and compete in a variety of sports," said Melissa Iachan, lead attorney on the case and Senior Staff Attorney at NYLPI. "The power of this student-led movement has been validated by the lawsuit's legal status as a class action trying to bring about change for all Black and Latinx high school students, and our lead plaintiffs will continue to inspire as we stand together in this fight for progress and equity."
The stipulation certifying the legal action to proceed as a class action represents a major victory for the Plaintiffs and recognition of the important and sweeping policy changes necessary to bring about a more equitable public high school sports league. The amended complaint confirms the lead plaintiffs as class representatives for students citywide; the four current high school students—two of whom are Black and two of whom are Latinx—attend three different schools, and none of them have access at their schools to the sports teams they want. At most, their schools offer eight sports.
"I will always fight for my people no matter how long it takes for us to win," said lead plaintiff Moises Jimenez, a rising senior at In-Tech Academy in the Bronx. "We should all have the right to the same amount of PSAL sports. My life outside of school is volleyball and I hope for one day to keep doing what I'm doing and receive a full scholarship. But my school has limited sports for boys and they don't have a boys' volleyball team. I want to make sure that future Latinos and Black students have the opportunity to play the sport they want as they are growing up in school."
"Being a plaintiff gives me responsibility and a reason to keep fighting for sports equity," said lead plaintiff Devaun Longley, a rising senior at Bronx Academy of Letters. "I have always been pushed by the idea that everyone should have equal access to any and all resources. Sports are impactful to a student's life – it can change the way they feel about themselves and about others, and it gives them access to friendship, freedom, and an escape from their issues. I have felt this way since middle school when I learned that we are not equal, we do not have what prominently white/Asian schools have, but we are forced to live this way. That's why I fight for sports equity. I fight so that the kids of our future do not have to worry, or fight, or question if they are equal or not to someone who is not the same race as them. I want equality, I want justice within the sports system."
For more than a decade, activists, educators, and students have been voicing their concern and demanding change to the manner in which the PSAL, which is a part of the DOE, allocates and grants teams and resources across the city. In 2018, when NYLPI filed the lawsuit, schools that had 95% or more Black and Latinx students had on average seven teams, in comparison with schools with only 40% Black and Latinx students, which averaged 29.5 teams per school.
"I went to a predominately Black and Latino school and only had one PSAL sport available to me, while other schools, like Stuyvesant, have 32 varsity sports options," said Kadija Kone, a student lead at IntegrateNYC. "This isn't an accident. The class action is giving students who were robbed of sports by a racist system what they're owed. Sports equity is about giving all students the opportunity to flourish in a sport. Sports teams improve mental health, physical health, and build leadership in young people. It keeps students motivated and focused yet black and brown students are denied that by the PSAL. The class action is a step towards brightening the future of the next generation and giving students options for growth."
The current suspension of PSAL activities during the pandemic provides the DOE with an opportunity to reinvent what was fundamentally an unjust system. The Fair Play coalition, including NYLPI, IntegrateNYC, and the lead plaintiffs in the case, has been advocating for more equity in how sports teams are distributed and resourced throughout the City, while also highlighting the importance of sports to teenagers in NYC.
"For years the PSAL has operated an inequitable system that denies Black and Latinx high school students the opportunity to play the sports that they love," said Jenny Veloz, a community organizer at NYLPI and a lead facilitator in Fair Play. "With the current pandemic-related suspension of school sports, it is even more important that the PSAL create a system that levels the playing field and ensures an equitable distribution of resources to all DOE high schools. Led by our amazing Fair Play youth, including the lead plaintiffs, Fair Play has fought for years to ensure sports equity and we will continue to fight until a truly fair system is in place."
The class of plaintiffs is represented by a team of attorneys from Patterson, Emery Celli, and NYLPI, all of whom have been working with students and advocates on efforts to reform the PSAL with equity in mind for more than four years. As a next step in the case, the attorneys will confer with attorneys for the Defendants during a regularly scheduled Court conference, and the lawsuit shall proceed as a class action seeking significant policy changes in how teams are allocated throughout the city.
"We are proud of the work that our lead plaintiffs and student advocates have done to date and look forward to continuing to litigate this case towards a resolution that will bring equal access to sports to students across the city," said Maren Messing, Counsel at Patterson.
For more information, please visit www.nylpi.org.
About New York Lawyers for the Public Interest (NYLPI)
Founded more than 40 years ago by leaders of the bar, New York Lawyers for the Public Interest is a community-driven civil rights organization that pursues justice for all New Yorkers. NYLPI works toward a New York where all people can thrive in their communities, with quality healthcare and housing, safe jobs, good schools, and healthy neighborhoods. In NYLPI's vision, all New Yorkers live with dignity and independence, with the resources they need to succeed. NYLPI's community-driven approach powers its commitments to civil rights and to disability, health, immigrant, and environmental justice. NYLPI seeks lasting change through litigation, community organizing, policy advocacy, pro bono service, and education.
###

LATEST NEWS
Take Action
Here's what you can do right now for justice in New York…
Stay up to date
Get updates on our cases and campaigns, and join us in taking action for justice…