Renewable Rikers Coalition Welcomes Announcement on Island's First Land Transfer, Urges Mayor de Blasio to Transfer Additional, Unused Rikers Acreage Before Term Ends
July 13, 2021
Environmental Justice, News, Renewable Rikers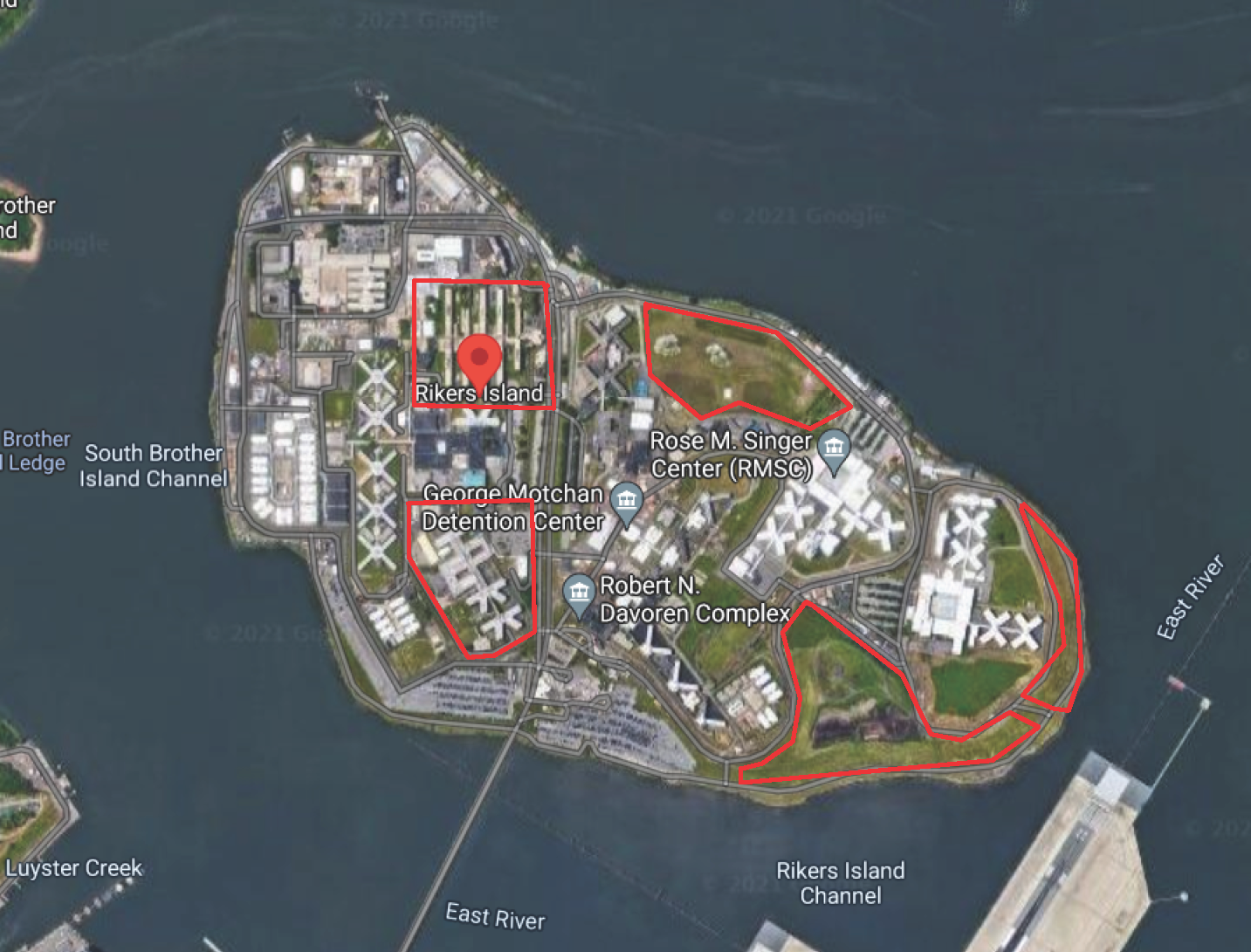 July 9, 2021
– New York, NY – The Renewable Rikers Coalition today welcomed
the announcement
that JATC, a closed facility on Rikers Island currently used for storage, with a total building area of 468,129 square feet, is being transferred from the Department of Correction ("DOC") to the Department of Citywide Administrative Services ("DCAS"), calling it the first concrete step in converting the notorious jail complex from an island of shame into a showplace of sustainability and reparative justice.
The Coalition is pressing Mayor Bill de Blasio to make further transfers before he leaves office at the end of the year. This includes shifting control of unused parcels to DCAS and recommitting to decarceration to accelerate the closure of more jails on Rikers, which could then be moved to the jurisdiction of DCAS as well. Coalition members and allies sent over 300 letters to the Mayor in June 2021 urging him to transfer the maximum amount of land out of DOC control. Coalition representatives noted that a more expansive land transfer would be consistent with the language and intent of the recently enacted Renewable Rikers law.  That statute, Local Law 16 of 2021, specifies that the Mayor "shall transfer … every portion of Rikers Island that the Mayor determines is not in active use for the housing of incarcerated persons or …for providing direct services to such persons …."  (Emphasis added.)   The law states that the first such transfer must take place no later than July 1, 2021, occur every six months thereafter, and that the transfer of the entire 413-acre island must be completed no later than August 31, 2027.
The City Council, who overwhelmingly passed the three bills known as the Renewable Rikers Act in early spring of 2021, joined the Coalition in urging the Mayor to make this first transfer in accordance with the law, and to expedite further transfers. On July 8, 2021, more than 25 members of the New York City Council signed onto a letter penned by District 2 Council Member Carlina Rivera addressed to the Mayor, urging his administration to waste no time in transferring as much of Rikers as possible under the direction of the law in order to advance restorative justice and sustainability.
The transfer of land from DOC to DCAS is the first critical step for the City to begin to establish a renewable energy infrastructure hub on Rikers Island, promising the creation of good green jobs and the ability to eventually shutter polluting infrastructure in low income communities and communities of color in New York City. The more land that is transferred by each statutory deadline, the quicker the City will be able to make the transition to a green economy and more sustainable infrastructure. The Coalition welcomed today's transfer as a legally and morally necessary first step, but was disappointed in the limited amount of property in this first transfer and urges bolder action by the Mayor in the coming months.
"Rikers Island has been a site of torture for Black and Brown people for centuries, including its last 90 years as a penal colony. Today, we are taking the first step toward a transformation that can begin to repair some of that harm, and create a better City for all of us in the process. As a Bronx resident and a survivor of Rikers, I know the power of a place that caused so much pain being reborn into something so beautiful. The Mayor has the power to accelerate the next steps of this process, to truly secure the closure of the Rikers jails and birth of Renewable Rikers as part of his legacy." Hope S. Sanders, member-leader with Freedom Agenda
"Today, we want to acknowledge the beginning of implementation of the Renewable Rikers plan. While the transfer of this first piece of land is a positive and necessary start, we must not sacrifice the bigger picture and goals of this campaign. This is a time to continue to push for the actualization of the strongest version of our plan in order to begin to bring real restorative justice to our city." Dariela Rodriguez, Director of Community Development, THE POINT CDC
"We are pleased to see that the City has met its legal obligation to begin the transition of Rikers Island from a place of torture and trauma into the center of possibility for a sustainable and just generator of clean energy and good green jobs. However, today's modest transfer of land which represents less than half of the land currently available for transfer under the law is not impressing anyone; we urge the Mayor to be bold and see this as the opportunity to build a legacy of paving the way to a more equitable and sustainable future for our City, and transfer the maximum land possible before the next statutory deadline." Melissa Iachán, Senior Supervising Counsel, Environmental Justice, New York Lawyers for the Public Interest
"Mayor de Blasio's transfer of the first jail on Rikers Island out of the Department of Correction's hands is a vital first step towards closing those notorious jails, and converting the island into a green energy hub that benefits the entire City.  We look forward to robust additional land transfers this calendar year to cement the Mayor's legacy around Rikers." Tyler Nims, Executive Director, A More Just NYC
"This initial transfer of land on Rikers Island away from the Department of Correction is a small but important step in starting to repair the long history of abuses borne primarily by low-income people of color at the notorious jail complex," said Sara Imperiale, Senior Attorney at the Natural Resources Defense Council. "But before his term is over, Mayor DeBlasio should transfer other unused Rikers Island parcels out of the Correction Department — to fulfill the promise of the Renewable Rikers legislation and to build a legacy of sustainability and justice," added Eric A. Goldstein, NYC Environment Director at the Natural Resources Defense Council.
"The Renewable Rikers plan is a smart plan, a way to benefit the very communities that were devastated by the over incarceration that Rikers fueled. Given the great environmental needs of New York City, transferring the land and designating it for the environmental benefit of all, is a wise and strong decision. We ask that the Mayor use his full authority to move as much of the land as possible to beneficial use. This would be best for all and set the tone for the new administration to come." Rev. Wendy Calderón Payne, BronxConnect
"This first transfer of property away from Department of Correction control is a key step towards turning Rikers Island to a clean air and clean water resource for the benefit of all New Yorkers" said Mike Dulong, Riverkeeper Staff Attorney. "Yet it is inexplicable that other currently unused land remains available for prison purposes. Such land must be immediately transferred to fulfill the city's promise to close the jails and begin transitioning New York City toward a just and sustainable future."  
"Exodus Transitional Community is excited to see the start of the Renewable Rikers Plan with the first transfer of land from DOC to DCAS. This is a critical step in the plan to close Rikers Island – a place where so many of our staff and participants experienced trauma and harm. While we applaud this first step, we acknowledge the need to transfer all land not being used and where empty facilities are standing. As a justice-impacted organization, we will continue to work to ensure the Renewable Rikers and Close Rikers plans come to fruition. As a community, we hold the power to collectively move government and we will only do so through leading with love." Kandra Clark, VP of Policy & Strategy, Exodus Transitional Community
"With the climate crisis upon us this administration must move much more aggressively to remove the blight of Rikers Island and all it represents from the city's landscape to prepare the land for a new purpose. A Renewable Rikers will save nearby communities from emissions, it will save our city money, and it will provide additional waste water treatment capacity – all while providing green jobs for impacted communities and some measure of restorative justice. We the citizens and organizers have done our part by articulating and fighting for this new vision for Rikers and New York City, the Council has made our wishes clear, now we need the Mayor and his administration to do the hard work of making the Renewable Rikers Act a reality." Georgi Page, Member, 350Brooklyn, Chair City Action Committee
"When this Council voted to close Rikers and reimagine its future, we had a clear understanding that the Mayor and his administration would work in partnership with the Council and advocates towards this goal. That's why it's so concerning that the first deadline for transferring land on Rikers away from the Department of Correction has already passed with little movement from the de Blasio administration, and it's why 24 of my colleagues joined me in writing a letter to the Mayor asking for an explanation. We must work as quickly as possible to follow through on the Renewable Rikers plan championed by former Council Member Costa Constantinides, and I will continue to push City agencies to accomplish this vision," said Council Member Carlina Rivera.
"The City Council made a solemn commitment this term to put an end to the suffering on Rikers Island by shutting down the jail facility and transferring the land from the Department of Correction," said Council Member Antonio Reynoso. "The fight for criminal justice reform has been littered with broken promises and it is essential that the City of New York demonstrate good faith by immediately beginning the process of removing DOC's jurisdiction over this property. We must move with urgency to finally deliver on the promises we've made to both end incarceration on Rikers Island and re-envision this space as a resource that benefits all New Yorkers. I look forward to working with my colleagues to push the administration to follow the law and honor the commitment we made to those who fought long and hard  to ensure Rikers is shuttered once and for all."
"For too long Rikers Island has caused our City pain and heartbreak. Former Council Member Costa Constantinides has given us a plan to begin closing Rikers and using the land for a purpose that will benefit all New Yorkers for generations to come. It is time to begin implementing that plan as quickly as possible. I am excited to work with my colleagues and the administration to finally begin righting the wrongs that have been committed for so many decades. I look forward to the day when there is no jail on Rikers," said Council Member Danny Dromm.
About the Renewable Rikers Coalition
The Renewable Rikers Coalition is an alliance of more than 40 diverse organizations representing people formerly incarcerated on Rikers and their families, communities impacted by environmental racism, and allied environmental and social justice not-for-profit groups from across all five boroughs.

LATEST NEWS
Take Action
Here's what you can do right now for justice in New York…
Stay up to date
Get updates on our cases and campaigns, and join us in taking action for justice…