Christopher Schuyler's Congestion Pricing City Council Testimony
Access-A-Ride, Climate and Energy Justice, Disability Justice, Environmental Justice, Health Justice, MTA, News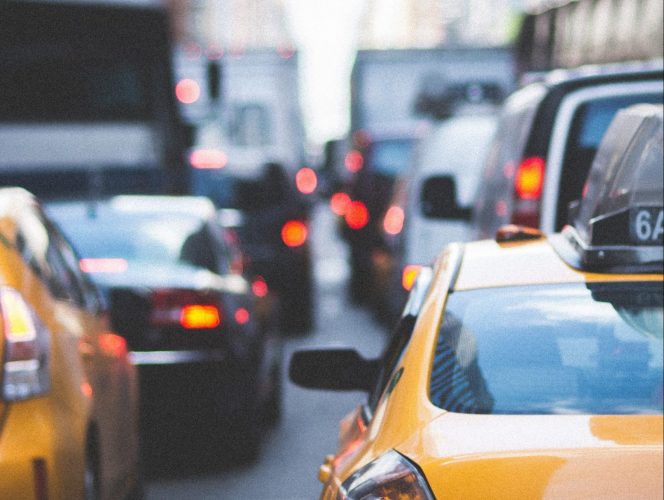 Comments by Christopher Schuyler, Senior Staff Attorney
New York Lawyers for the Public Interest
To the New York City Council,
Committee on Transportation and Infrastructure 
On August 17, 2023 
Regarding Central Business District Tolling Program 
New York Lawyers for the Public Interest ("NYLPI") strongly supports the goals of the  Central Business District Tolling Program ("congestion pricing" or "CP"). Congestion  pricing promises to reduce congestion in the central business district ("CBD") – the  area below 60th street in Manhattan – easing the flow of traffic for emergency vehicles,  Access-A-Ride ("AAR") paratransit vehicles, buses, delivery drivers, bicyclists, others.  Congestion Pricing will also reduce emissions and thereby improve air quality in the  CBD. Lastly, the MTA is relying on CP to fund $15 billion of the over $50 billion 2020- 2024 Capital Plan. This is particularly critical for the disability community as the MTA  previously pledged that $10 billion of the Capital Plan will go to improving the  accessibility of the vastly inaccessible subway system. 
While NYLPI supports and encourages the above-referenced goals, they must not be  achieved at the expense of historically disadvantaged communities, such as people  with disabilities and environmental justice ("EJ") communities. The disability  community, a group that is disproportionately low-income, has suffered from an  inaccessible subway system since it was built. Due to decades of the MTA failing to  commit to accessibility, AAR has ballooned to a size far bigger than would be needed if  the city had accessible mass transit. Moreover, AAR itself is a dysfunctional system  fraught with service issues, leaving many with disabilities to rely on costly for-hire  vehicles ("FHV") like cabs, Ubers, and Lyfts. Long underserved by the MTA, people  with disabilities should not now be subject to the CP toll.  
Additionally, certain tolling scenarios show that EJ communities, including the South  Bronx, will experience increased harmful emissions due to traffic being diverted away  from the CBD. Mitigation measures and cost offsets must be implemented to protect the South Bronx and other EJ communities, particularly those that also encompass  transit deserts. 
Implementation of CP is imminent, yet there remains a litany of unknowns which  impact the disability and EJ communities. As referenced above, the MTA is relying on  CP to largely fund the Capital Plan, with its significant commitments to improving  subway accessibility. It is, however, unknown what proportion of the $15 billion raised  by CP will be allocated toward the promised accessibility improvements. Moreover, if challenges to CP are successful in stalling or dismantling CP, what is the MTA's  contingency plan to fund the Capital Plan? In the event that the Capital Plan is not fully  funded, the MTA will need to make alternate plans. The promised accessibility  improvements must not be sacrificed, but rather must be prioritized. Such  improvements are long past due and will have wide-ranging long-term benefits,  including reducing AAR costs and improving access and expanding subway ridership  not only for people with disabilities, but for the myriad others who require accessibility  in the subway, including seniors, people pushing strollers, delivery workers, people  with luggage, and many others.  
Although CP funding must go toward capital improvements rather than operating  costs, AAR must also benefit from this funding infusion. During the hearing, the MTA  touted its high satisfaction figures among AAR users, but those numbers have been  boosted by the users' collective enthusiasm for the initial stage of the on-demand pilot  program. The MTA boasted that the pilot is being expanded without increasing the  operating budget, but it downplayed the fact that the so-called expansion relies on  extensive ride rationing and greatly increased costs to users. Rather than taking more  from AAR users, the windfall from CP should be used to improve AAR, including by  actually expanding the pilot without subjecting riders to increased restrictions and  higher prices. 
CP legislation carved out certain vague exemptions for the disability community, which  the recent Environmental Assessment clarified: no toll will be collected by vehicles with  disability license plates or fleet vehicles used exclusively to provide transportation to  people with disabilities, including AAR. Will exemptions for people with disabilities be  limited to only these groups? Will it also be available to people with disability parking  placards? Moreover, will the MTA ease administrative hurdles for people seeking  disability license plates, including waiving application fees and expediting processing  times? Also, for a host of reasons, including an inaccessible subway system, poor AAR  service, living in a transit desert, and others, many people with disabilities resort to  FHVs to get around. Will any exemptions or cost-savings be available to this group? 
While the current plan will charge drivers the CP toll, it is foreseeable that these costs  will ultimately be passed on to the customers. 
Finally, due to the risks of worsening air quality to EJ communities including the South  Bronx as drivers are diverted away from the CBD, the MTA has proposed certain  mitigation measures to offset these risks. The mitigation measures include reducing  late-night tolls by 50%, expanding the replacement of diesel trucks in EJ communities,  upgrading electric vehicle charging infrastructure, expanding the city's asthma case  management program in schools, and planting roadside vegetation to improve air  quality near roads. That said, what data has been made available to verify that these  measures will actually offset the risks borne by these EJ communities? And if the  mitigating measures will offset the risks, to what extent will they do so? Moreover,  what exemptions and cost savings will be available to those belonging to EJ  communities that also comprise transit deserts, the majority of which house low income residents? 
Thank you for hearing my testimony today. I urge you consider my above remarks as  you fight for all New Yorkers in the effort to achieve a truly equitable CP plan. 
Christopher Schuyler, Senior Staff Attorney
New York Lawyers for the Public Interest
151 West 30th Street, 11th floor
New York, NY 10001
[email protected]
(212) 244-4664 
About New York Lawyers for the Public Interest 
For over 40 years, NYLPI has been a leading civil rights and legal services advocate for New Yorkers  marginalized by race, poverty, disability, and immigration status. Through our community lawyering  model, we bridge the gap between traditional civil legal services and civil rights, building strength and  capacity for both individual solutions and long-term impact. Our work integrates the power of  individual representation, impact litigation, organizing, and policy campaigns. Guided by the priorities  of our communities, we strive to achieve equality of opportunity and self-determination for people  with disabilities, create equal access to health care, ensure immigrant opportunity, secure  environmental justice for low-income communities of color, and strengthen local nonprofits.
Download

LATEST NEWS
Take Action
Here's what you can do right now for justice in New York…
Stay up to date
Get updates on our cases and campaigns, and join us in taking action for justice…