Letter to State Legislators Regarding Kendra's Law
Disability Justice, News, Transforming Mental Health Crisis Response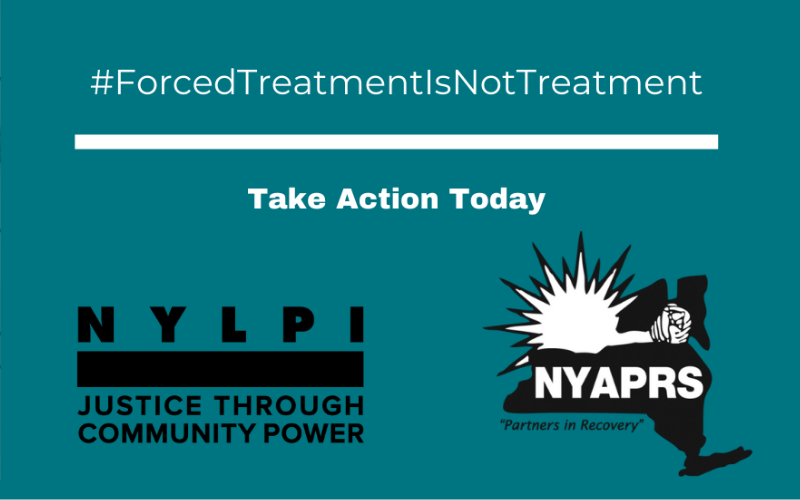 March 25, 2022  
Dear Senators and Assembly Members:  
The undersigned are leaders in the civil rights community across the state who urge you to protect the rights of New Yorkers with mental disabilities and to reject Governor Hochul's recent proposal to expand forced psychiatric commitment laws!  
We must not criminalize mental illness or scapegoat individuals who have mental illness. It is simply untrue that individuals with mental illness are more violent than those who do not have mental illness, and we should not be developing legislation to combat the horrific violent acts of but a few individuals.  
The fact is that only 3%–5% of violent acts can be attributed to individuals with mental illness. Moreover, people with mental illness are eleven times more likely to be victims of violence.  
While there is extensive literature supporting voluntary treatment, there is no indication that forced outpatient treatment is successful. Moreover, forced "treatment" under the guise of  "Assisted Outpatient Treatment" or "Kendra's Law" is, according to the authors of New York's study on the law, not a violence prevention strategy. In fact, forced treatment results in the undermining of therapeutic relationships and in long-lasting trauma. 
Forced "treatment" must also be seen in the context of the ensuing racial disparities as 77% of Kendra's Law orders are being implemented against Black and Brown individuals in New York City. These disparities will only worsen if the proposed amendments to the Mental Hygiene  Law are put in place.  
We therefore must not make it easier to force treatment against an individual's will. And we certainly can't do that and believe that we're doing something that is better for individuals with mental illness. Quite simply, there is no place for coercion. Forced "treatment" is not treatment at all, and it has long been rejected by health practitioners in favor of numerous best practices strategies that actually offer assistance — even to those who have previously resisted offers of care.  
Instead, New York must invest in the multiple models of less invasive, voluntary care (see  attached) to avoid the trauma, as well as the enormous cost, of forced treatment. We must not  expand a program that that forces New Yorkers into the same services that have already failed  them in the past.  
The amendments to Article 9 of the Mental Hygiene Law, as set forth in the Governor's original budget language and in her "Confidential Public Safety Package" will unlawfully deny people with mental health concerns appropriate treatment, greatly reduce their rights to self-determination, and not result in the violence prevention that the Governor hopes for. 
We urge you to reject the amendments, as follows:  
It is

wholly unnecessary

, to say nothing of

unconstitutional, to broaden the standard for forced in-patient and out-patient commitments, based on  prediction of future harm to an individual who appears to be unable to meet basic needs such as food, clothing, shelter, and medical care.  

The proposed amendments would also

illegally permit those who appear unable to obtain food, shelter, clothing, or medical services

to be

subjected to forced outpatient commitment without even requiring the currently mandatory showing that the individual have a "history of lack of compliance with treatment for mental illness," and without even requiring that the individual is "likely to benefit from" an outpatient commitment Kendra's Law order.

Notably, these two criteria were what the New York Court of Appeals relied on to uphold Kendra's Law against constitutional challenge.

In re K.L.

, 1 N.Y.3d 362,  366 (2004). 

It is totally inappropriate to expand Kendra's Law to permit an order to be issued where an individual has had an order in place in the prior six months and merely meets a vague "standard" of having experienced a "substantial increase in symptoms of mental illness," with absolutely no need to show the individual has engaged in any acts of violent behavior or threats of such behavior.  

Allowing otherwise confidential medical and legal records to be shared with healthcare providers — without the individual's consent — violates the Health  Insurance Portability and Accountability Act, ("HIPAA") and all other relevant common law privacy provisions.  
In lieu of approving these amendments, we urge the Legislature to fund real solutions. We thank the Legislature for already having committed to increase funding for low-threshold housing and community supports, and the historic investment in our workforce that are included in your one house budget bills. In addition, we ask that additional funds be devoted to building additional, successful remedies, including Crisis Respite, Housing First, Safe Haven,  Family Crisis Respite, Living Room Model, Safe Options Support Teams, INSET, and Pathway  Home (see attached).  
Thank you for your commitment to the health and rights of New Yorkers with mental disabilities.  Sincerely,  
Acacia Network 
AIM Independent Living Center
Association for Mental Health and Wellness 
Baltic Street AEH 
Bazelon Center for Mental Health Law 
Bronx Independent Living Services 
Brooklyn Center for Independence of the Disabled  
Brooklyn Defender Services 
CASES 
Catholic Charities of Broome County 
Center for Disability Rights 
Center for Independence of the Disabled, NY 
Coalition for Behavioral Health 
Coalition of Medication-Assisted Treatment Providers and Advocates  Community Access 
Community Missions of Niagara Frontier, Inc. 
Compeer Rochester 
Correct Crisis Intervention Today – NYC 
CoveCare Center 
Families Together in New York State 
Friends of Recovery – NY 
Gateway Hudson Valley 
Hands Across Long Island, Inc.  
Hetrick-Martin Institute
Hostos Community College 
Hour Children 
Incarcerated Nation Network, Inc. 
Intentional Peer Support, LLC 
Independent Living, Inc. 
Long Island Council of Churches (Public Issues  Committee) 
Mental Health Advocates of Western New York
Mental Health Association of Chautauqua County
Mental Health Association of Nassau County
Mental Health Association of New York State, Inc.
Mental Health Association of Orange County
Mental Health Association of Westchester
Mental Health Empowerment Project 
Mental Patients Liberation Alliance 
MindFreedom International 
Mobilization for Justice 
Mothers On the Inside 
National Mental Health Consumers' Self-Help  Clearinghouse 
National Action Network  
National Alliance on Mental Illness of Huntington  National Alliance on Mental Illness of NYC
National Association for Rights Protection and Advocacy  Neighborhood Defender Service of Harlem 
New Hour for Women & Children Long Island New York Association of Independent Living 
 New York Association of Psychiatric Rehabilitation Services  New York Lawyers for the Public Interest 
Northern Regional Center for Independent Living 
New York State Council for Community Behavioral  Healthcare 
People USA 
Police Reform Organizing Project 
Resource Center for Accessible Living, Inc. 
Resource Center for Independent Living, Inc. 
Restoration Society 
Safe Horizon 
Social Workers & Allies Against Solitary Confinement Southern Tier Independence Center 
 Staten Island Center for Independent Living Supportive Housing Network of New York 
Taconic Resources for Independence, Inc. 
Tri-Lakes Center for Independent Living, Inc. Urban Justice Center 
 Urban Pathways
 VOCAL-NY 
 Western New York Independent Living
COMMUNITY-BASED VOLUNTARY INNOVATIONS  
FOR AT-RISK INDIVIDUALS 
RESIDENTIAL PROGRAMS 
Crisis Respite – Intensive Crisis Residential Program: an OMH program which provides  a safe place for the stabilization of psychiatric symptoms and a range of services from support to treatment services for children and adults. are intended to be located in the community and provide a home-like setting. 
Crisis Respite (shorter term and less intensive): an OMH Program which provides an alternative to hospitalization for people experiencing emotional crises. They are warm, safe, and supportive home-like places to rest and recover when more support is needed than can be provided at home. The Crisis Respite Centers offer stays for up to one week and provide an open-door setting where people can continue their daily activities. Trained peers and non-peers work with individuals to help them successfully overcome emotional crises. 
Peer Crisis Respite programs: an OMH-funded program which offers peer-operated short-term crisis respites that are home-like alternatives to hospital psychiatric emergency  rooms and inpatient units. Guests can stay up to seven nights, and they can come-and-go for appointments, jobs, and other essential needs. The program offers a full, customizable menu of services designed to help them understand what happened that caused their crisis, educate them about skills and resources that can help in times of emotional distress, explore the relationship between their current situation and their overall well-being, resolve the issues that brought them to the house, learn simple and effective ways to feel better, connect with other useful services and supports in the community, and feel comfortable returning home after their stay. 
Pathways Housing First: a housing approach that prioritizes permanent housing for people experiencing homelessness and frequently serious mental illness and substance use issues. Supportive services including substance use counseling and treatment are part of the model, but abstinence or even engagement in services is not required. Research studies  
examining this model have shown that it dramatically reduces homelessness and is  significantly more effective than traditional treatment and housing models. 
Soteria: a Therapeutic Community Residence for the prevention of hospitalization for  individuals experiencing a distressing extreme state, commonly referred to as psychosis.  We believe that psychosis can be a temporary experience that one works through rather  than a chronic mental illness that needs to be managed. We practice the approach of "being  with" – this is a process of actively staying present with people and learning about their  experiences. 
Safe Haven: provides transitional housing for vulnerable street homeless individuals,  primarily women. "low-threshold" resources: they have fewer requirements, making them 
attractive to those who are resistant to emergency shelter. Safe Havens offer intensive case  management, along with mental health and substance abuse assistance, with the goal of moving each client into permanent housing. 
Living Room model: a community crisis center that offers people experiencing a mental  health crisis an alternative to hospitalization. health crises a calm and safe environment.  The community outpatient centers are open 24 hours a day, 7 days a week and people  receive care immediately. Services include crisis intervention, a safe place in which to rest  and relax, support from peer counselors; intervention from professional counselors  including teaching de-escalation skills and developing safety plans, Linkage with referrals  for emergency housing, healthcare, food, and mental health services. 
Crisis Stabilization Centers: 24/7 community crisis response hub where people of all ages  can connect immediately with an integrated team of clinical counselors, peer specialists,  and behavioral health professionals, as well as to our local community's health & human  service providers, to address any mental health, addiction, or social determinant of health  needs. People use the Stabilization Center when they're experiencing emotional distress,  acute psychiatric symptoms, addiction challenges, intoxication, family issues, and other  life stressors. 
Parachute NYC: provides a non-threatening environment where people who are coming undone can take a break from their turbulent lives and think through their problems before they reach a crisis point. Many who shun hospitals and crisis stabilization units will voluntarily seek help at respite centers. Parachute NYC includes mobile treatment units and phone counseling in addition to the four brick-and- mortar respite centers. 
NON-RESIDENTIAL PROGRAMS 
Safe Options Support Teams: consist of direct outreach workers as well as clinicians to help more New Yorkers come off of streets and into shelters and/or housing. Safe Options  Support (SOS) Teams a r e comprised of licensed clinicians, care managers, peers, and registered nurses. Services are provided for up to 12 months, pre- and post-housing placement, with an intensive initial outreach and engagement period that includes multiple visits per week, each for several hours. Participants learn self-management skills and master activities of daily living on the road to self-efficacy and recovery. The teams' outreach facilitates connection to treatment and support services. The SOS Teams follow  
the Critical Time Intervention (CTI) model – a time-limited, evidence-based service that helps vulnerable individuals during periods of transitions. The teams serve individuals as they transition from street homelessness to housing. 
INSET: a model of integrated peer and professional services provides rapid, intensive,  flexible, and sustained interventions to help individuals who have experienced frequent  periods of acute states of distress, frequent emergency room visits, hospitalizations, and  criminal justice involvement and for whom prior programs of care and support have been  ineffective. Mental Health Association of Westchester has found that participants, previously
labeled "non-adherent," "resistant to treatment" or "in need of a higher level of care" and "mandated services," become voluntarily engaged and motivated to work toward recovery once offered peer connection, hope and opportunities to collaborate, share in decisions and exercise more control over their lives and their services and supports their treatment plans. The program has high rates of success, successfully engaging 80% of people who were either AOT-eligible or AOT-involved. 
NYAPRS Peer Bridger™ model: a peer-run and staffed model providing transitional  support for people being discharged from state and local hospitals, with the goal of helping  people to live successfully in the community, breaking cycles of frequent relapses and  readmissions. The program includes inpatient and community based intensive one on one  peer support groups, discharge planning, connection to community resources; provides  access to emergency housing, wrap around dollars and free cell phones and minutes.  
Intensive Mobile Treatment teams: a NYCDOHMH program providing intensive and  continuous support and treatment to individuals right in their communities, where and when  they need it. Clients have had recent and frequent contact with the mental health, criminal  justice, and homeless services systems, recent behavior that is unsafe and escalating, and  who were poorly served by traditional treatment models. Intensive Mobile Treatment (IMT) teams include mental health, substance use, and peer specialists who provide support and  treatment including medication and facilitate connections to housing and additional  supportive services.  
Pathway Home™: a community-based care transition/management intervention offering  intensive, mobile, time-limited services to individuals transitioning from an institutional  setting back to the community. The Coordinated Behavioral Care (CBC ) program acts as a  single point of referral to multidisciplinary teams at ten care management agencies (CMAs).  These teams maintain small caseloads and offer flexible interventions where frequency,  duration and intensity is tailored to match the individual's community needs and have the  capacity to respond rapidly to crisis. The program employs Critical Time Intervention (CTI)  — a time-limited, evidence-based practice that mobilizes support for society's most  vulnerable individuals during periods of transition. It facilitates community integration and  continuity of care by ensuring that a person has enduring ties to their community and support  systems during these critical periods.  
Fountain House Clubhouses: Fountain House addresses both the health and social needs  of its members through an integrated model that connects its physical clubhouse – where  members are engaged in an innovative therapeutic community rooted in social practice, and  take steps in reclaiming their agency and dignity – with access to clinical support, housing,  and care management. 
Westchester Forensic Mobile Teams: work directly with law enforcement in the field and  courts, seeking alternatives to incarceration (ATI), to provide immediate crisis response  and/or transitional care services to people at risk of entering the criminal justice system due  to under-addressed mental health, addiction, or social determinants of health issues.
Download

LATEST NEWS
Take Action
Here's what you can do right now for justice in New York…
Stay up to date
Get updates on our cases and campaigns, and join us in taking action for justice…