Press Release: New Report Shows Immigrant New Yorkers Denied Access to Life-Saving Organ Transplants
Disability Justice, Health Justice, Immigrant Justice, News, Transplant Equity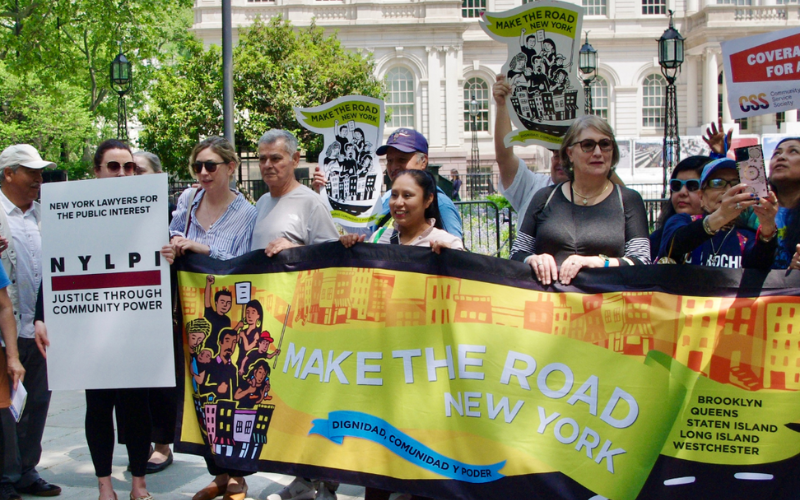 New Report Shows Immigrant New Yorkers Denied Access to Life-Saving Organ Transplants
The report calls for immediate State and City policy changes to address this inequity.
New York, N.Y. – Today, New York Lawyers for the Public Interest (NYLPI), Make the Road NY, and the NY Immigrant Coalition released a new report titled "They Can Donate But They Can't Receive," which documents the many barriers immigrants face receiving life-saving organ transplants. The report also highlights how New York City and State can save lives and money by helping patients on dialysis receive equitable access to transplant care. The report was announced at a press conference attended by elected officials, community advocates, health care providers, and patients. 
The report emphasizes that transplant surgery is the only long-term solution for patients with kidney failure, and that health systems have a critical role to play in reducing the barriers to transplant care for low-income and immigrant patients, many of whom must receive referrals from public safety-net hospitals to transplant centers located at private hospitals.  
Included in the report is the all-to-common experience of Ms. G, a kidney disease patient receiving long-term dialysis who sought NYLPI's assistance to obtain immigration status needed specifically to enroll in New York's Essential Health Plan.  After enrolling in insurance and booking an evaluation appointment at a private transplant center, the hospital abruptly canceled Mrs. G's evaluation when she voluntarily disclosed to hospital staff that she did not have a Social Security number.
The release of the report follows the passage of New York State budget legislation, which continues to exclude hundreds of thousands of New Yorkers from basic health coverage because of their immigration status – including many who have served as essential workers during a three-year pandemic emergency and who continue to bring billions into our state's economy.
While this report addresses specific health disparities, event speakers also stressed how transplant inequity points to the need for basic healthcare to uninsured New Yorkers. At the rally, community members, legislators, and advocates called for immediate reform, including passage of the Coverage For All bill extending insurance eligibility to all low-income New Yorkers, and an interim bill authorizing the Emergency Medicaid program to cover life-saving organ transplants. Community members also shared their direct experiences with the healthcare system, describing how their physical well being and quality of life suffered from the inability to qualify for healthcare coverage and primary and preventive care.
The report emphasizes how current New York laws on medical care created a discriminatory system that denied access to medical treatment on arbitrary requirements. 
A link to the report in Spanish can be found here. 
Quotes:
"It is unacceptable that the lack of legal immigration status or health insurance is preventing undocumented New Yorkers from receiving life-saving organ donations," said Senator Gustavo Rivera, Chair of the Committee on Health. "That is why I am the proud sponsor of Coverage For All and the kidney transplant bill S3577. Both legislative proposals would greatly improve healthcare access for one of our State's most vulnerable populations while creating significant savings for the State by providing uninsured New Yorkers with options aside from emergency care. No one should be forced to suffer from acute renal failure as their life depends on dialysis treatment before being eligible for a life-saving transplant."
"We have a moral obligation to provide healthcare to all residents in our state, regardless of their immigration status," said Senator Luis Sepúlveda, Chair of the Committee on Cities. "The passage of Coverage For All (S2237) would expand medical assistance to include kidney transplants for undocumented individuals in New York. Not only will this improve the quality of life for those in need, but it will also result in significant cost savings for the state over time. By taking this step, we are demonstrating our commitment to providing accessible and affordable healthcare for all New Yorkers."
"This report makes clear the urgent need for my colleagues and I to act to help the thousands of immigrant New Yorkers who can't access the  lifesaving care they need. I'm honored to sponsor both Coverage for All, which would extend insurance eligible to all New Yorkers, regardless of immigration status, and an interim bill to require Emergency Medicaid to cover kidney transplantation for all New Yorkers, regardless of immigration status as well. Too many immigrant New Yorkers are ineligible for lifesaving transplants because of antiquated, unjust laws, and are forced to rely on the more costly and cumbersome dialysis treatment instead. It's time we fix that. Thank you to the New York Lawyers for the Public Interest, Make the Road NY, and the NY Immigrant Coalition for all of their hard work on their new report, 'They Can Donate But They Can't Receive,' and for their continued advocacy on behalf of immigrant New Yorkers. Let's pass these bills and help save lives," said Assemblymember Jessica González-Rojas.
"Who you know, how much money you have, what color you are, or your immigration status should not be determinant factors on if you receive a life-saving organ transplant," said Council Member Mercedes Narcisse, Chair of the Committee on Hospitals. "Unfortunately, far too often this remains the case. Immigrant New Yorkers are here to stay, and undocumented New Yorkers contribute billions in tax revenue. It is beyond short-sighted to continue to ignore their pleas for transplant equity."
"It is deeply unjust that undocumented New Yorkers – essential workers and the beating heart of our city – are shut out of access to life-saving organ transplants," said Councilmember Shekhar Krishnan. "I join NYLPI, New York Immigration Coalition, and Make The Road New York in calling on State lawmakers to provide healthcare for all, regardless of immigration status. That includes access to transplants for all."
Council Member Jennifer Gutiérrez said "It is deeply disturbing that immigrant New Yorkers are being denied access to life-saving organ transplants. Our budgets are statements of our morals, but the lack of funding for basic healthcare for all New York residents creates barriers for low-income and immigrant patients and denies their inherent humanity.  Undocumented immigrants pay taxes and donate organs – but even if they didn't, would be equally entitled to life-saving transplants. We urgently  need the State legislature to pass the bill to extend the federal waiver to include undocumented immigrants, to address this injustice and provide equitable access to healthcare for all New Yorkers, regardless of their immigration status."
"Access to lifesaving medical treatment shouldn't depend on your immigration or insurance status, and legislators and healthcare systems can act now to ensure that no New Yorker is denied the organ transplant they need," said Manhattan Borough President Mark Levine. "The current laws and lack of cultural competency in medical care relegate New York's 245,000 low-income undocumented and underinsured immigrants to second-class status, and we have a moral imperative to do away with this two-tiered system and get every New Yorker the best care possible."
"Every day I work with undocumented and uninsured clients who are among the most marginalized members of our communities," said Karina Albistegui-Adler, Senior Health Advocate at New York Lawyers for the Public Interest. "They have always been the backbone of many industries including caregiving, restaurants, construction, and agriculture for decades, but end up struggling to receive the medical care they need and deserve. While it's estimated that undocumented immigrants make up at least 3% of the national deceased organ donor pool, this part of our healthcare system continues to shut them out.  It's a grave injustice that has a clear fix: Health insurance coverage and care without bias for all New Yorkers regardless of immigration status."
Juan Hurtado, member of Make the Road New York, said, "As an immigrant, I have been excluded from health care coverage due to my immigration status. The cost of healthcare without insurance is exorbitant. I only have access to emergency medicaid which allows me to be seen in case of an emergency—but people like me shouldn't have to wait until it is too late or we are really sick to access care. It is critical that the Coverage for All bill passes this session, so that all low-income New Yorkers can have better access to quality healthcare. Plus, it is shameful that immigrants can donate kidneys and other organs but it's nearly impossible for us to receive a transplant and care. Health care is a human right, and it is time we eliminate the barriers that keep people from accessing affordable and quality care." 
"All New Yorkers, regardless of immigration status, deserve access to the care they need to live a healthy life," said Melinda Elias, Director of Healthy Communities, New York Immigration Coalition.   Even though immigrant New Yorkers already face barriers accessing healthcare, and are able to donate their organs at the end of life, they are not eligible to receive kidney donations. It's absolutely horrifying that immigrant New Yorkers who lack legal status do not have access to affordable health insurance simply because of their immigration status. New York cannot afford to wait any longer to invest in the health of our residents, workers and families. Health care for all New Yorkers is a step New York needs to take to protect the basic dignity and rights of all who call this State home."
####
Photos and videos available upon request.
CONTACT: 
Eli Judge, Group Gordon
608-332-3940
Download

LATEST NEWS
Take Action
Here's what you can do right now for justice in New York…
Stay up to date
Get updates on our cases and campaigns, and join us in taking action for justice…