Testimony of Ruth Lowenkron, Disability Justice Director on behalf of NYLPI before The Council of the City of New York Committee on Mental Health, Disabilities, and Addiction – May 4, 2023
Baerga v. City of New York, Disability Justice, Health Justice, News, Transforming Mental Health Crisis Response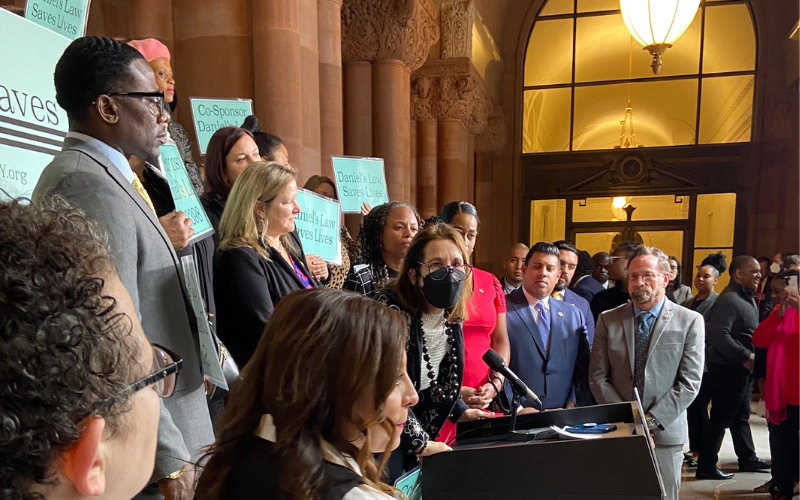 Below is an excerpt of Ruth Lowenkron's written testimony upon which she based her oral testimony that was delivered on May 4 to the City Council Committee on Mental Health, Disabilities, and Addiction. Click the button below for a link to the 44 page document.
Good morning. My name is Ruth Lowenkron and I am the Director of the  Disability Justice Program at New York Lawyers for the Public Interest (NYLPI). I am also a steering committee member of Correct Crisis Intervention Today – NYC  (CCIT-NYC), a coalition of over 80 New York City Organizations committed to  transforming the way New York City responds to individuals experiencing mental health crises.

NYLPI appreciates the vast majority of the Committee's proposed "Mental Health Roadmap" and shares below minor comments regarding the bills and resolutions we support, and details about the one bill we believe is premature and the one resolution which we oppose. We focus our comments, however, on what is missing from the Roadmap – a failure to address the critical need to transform New York's mental health crisis response and to cease funding the Behavioral Health Emergency Assistance Response Division (B-HEARD) pilot program in its current guise as it is a deeply flawed, as well as a failure to overturn the dangerous and illegal Involuntary Removal Plan announced by Mayor Adams in November 2022 permitting the involuntary removal of individuals who are merely perceived to have a mental illness diagnoses for psychiatric evaluation.  

We also take the liberty of including below, at p. 25, another mental health roadmap/action plan that was prepared by mental health advocates in 2021 and would be an excellent supplement to the Council's Roadmap.
Photo: Ruth Lowenkron speaking at an Advocacy Day event, alongside the Daniel's Law bill's sponsors, Senator Samra Brouk and Assemblymember Harry Bronson
Download

LATEST NEWS
Take Action
Here's what you can do right now for justice in New York…
Stay up to date
Get updates on our cases and campaigns, and join us in taking action for justice…