THE FACTS: MTA's Access-A-Ride on-demand e-hail
Access-A-Ride, Access-a-Ride Reform Group, Disability Justice, MTA, Transportation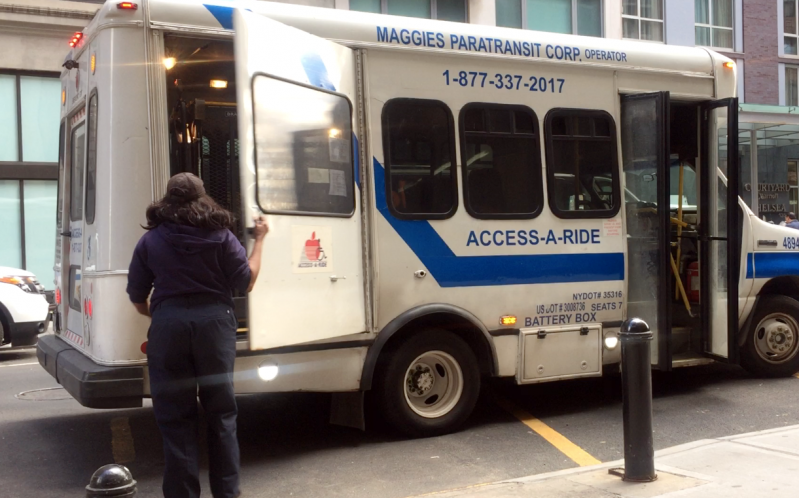 In 2017, the MTA started an innovative pilot that allows Access-A-Ride (AAR) riders to get a ride with the kind of freedom that other transit riders take for granted in New York City. For the first time, AAR riders could get where they needed to go, when they needed to be there. But the MTA now has imposed severe restrictions that render the program much less useful. Here are the facts about the widely lauded first phase and the MTA's flawed new proposal.
Phase 1: Flexibility and spontaneity
Started in November 2017 and ended in August 2023.
Available to 1,200 in-the-know and MTA-connected Access-A-Ride riders.
Offered e-hail service similar to Uber or Lyft, using yellow or other for-hire services.
Participants were able to use an app or call for a ride at any time—in stark contrast with standard Access-A-Ride service, which requires riders to reserve a ride by 5 p.m. the day before and cannot be modified on the day of travel.
Participants charged the base fare—the same as for all other paratransit, bus, and subway trips, as required by the MTA's Memorandum of Understanding with the City of New York.
Phase 2: Higher costs for riders, strict limits on use
Began on August 23, 2023.
Available to 3,600 participants, including Phase I participants.
Budget remains the same as for Phase I, even with the addition of 2,400 riders.
Increases base fare to $4—nearly 40% more than is paid by all other paratransit, bus, and subway riders. On-demand programs in other cities often charge less for on-demand.
Participants assigned to one of two groups:–"Distance riders" who face a cap of 25 rides a month and a subsidy cap of $40 per ride.
— "Frequency riders" who face a cap of 40 rides a month and a subsidy cap of $25 per ride.
Exposes riders to "surge pricing," which can increase the cost of a ride significantly.
Typical rides are prohibitively expensive for riders with fixed incomes:
"This life-changing program has allowed us to live our lives with the same autonomy and dignity as every other New Yorker." – Gian Carlo Pedulla, Daily News, July 23, 2023
Phase 2: Discriminates against riders with certain disabilities
On-demand providers such as Uber and Lyft don't accept reservations by phone, making them wholly unavailable to those who can't use or don't have smartphones.
Some on-demand apps are inaccessible to people who use screen readers.Phase 2: Violates the Memorandum of Understanding between the City and the MTA
A memorandum of understanding between the City of New York and the MTA prohibits the MTA from charging Access-A-Ride riders more than the base fare for subways and buses, but the MTA is charging $4—38% more than the $2.90 base fare—for on-demand.
On-demand offers the MTA huge savings over traditional paratransit, but Phase 2 seeks even more savings, by charging riders more. Each trip on AAR's blue-and-white van costs the MTA $115.55, while on-demand rides in Phase 1 cost the MTA an average of $47.45.Phase 2: Not comparable to other cities, despite MTA's claims
Phase 2 charges riders more than the on-demand programs in other cities. Most other cities set the on-demand fare to be the same as, or less than, the fare for traditional paratransit. That encourages riders to shift rides from more expensive traditional paratransit to cheaper service.
Phase 2 is less flexible and less usable than other on-demand programs in other cities. In Chicago, on-demand riders are allowed more than 200 trips a month (eight per day). In San Francisco, riders control how they spend the subsidy, without artificial limits on numbers of trips or trip cost.
"I honestly cannot understand, what is it about the disabled community where a same-day trip has to be so complicated?" –Tashia Lerebours, Daily News, June 26, 2023
For more information, contact the Access-A-Ride Reform Group (AARRG!) members below or Disabled In Action of Metropolitan New York:
Brooklyn Center for Independence of the Disabled: Joe Rappaport, 646-284-1078, [email protected]
Center for Independence of the Disabled: Sharon McLennon-Wier, 646-933-0174, ext. 1174, [email protected]
Mobilization for Justice: Daniel Ross, 413-519-0876, [email protected]
New York Lawyers for the Public Interest: Ruth Lowenkron, 917-804-8209, [email protected]
Disabled In Action of Metropolitan New York: Jean Ryan, 917-658-0760, [email protected]
Download

LATEST NEWS
Take Action
Here's what you can do right now for justice in New York…
Stay up to date
Get updates on our cases and campaigns, and join us in taking action for justice…