TLC Green Rides letter to Mayor Adams, Chair Do, September 19, 2023
Access-A-Ride, Access-a-Ride Reform Group, Climate and Energy Justice, Disability Justice, Health Justice, News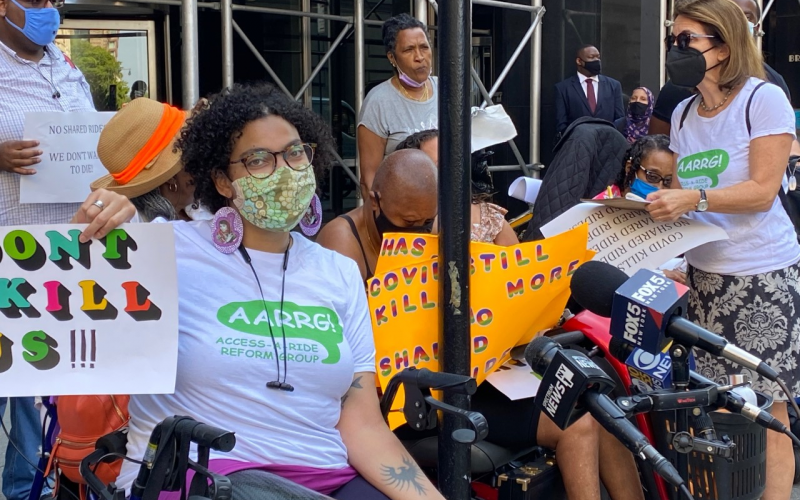 Bronx Independent Living Services (BILS)
•
Brooklyn Center for Independence of the  Disabled (BCID)
•
Center for Independence of the Disabled, NY (CIDNY)
•
Disabled In  Action of Metropolitan New York (DIA)
•
Downstate New York ADAPT
•
Harlem  Independent Living Center (HILC)
•
New York Lawyers for the Public Interest (NYLPI)
•
Riders Alliance
•
Staten Island Center for Independent Living (SICIL)
•
Tri-State Transportation Campaign
•
New York City Chapter, United Spinal Association
September 19, 2023 
Mayor Eric Adams
City Hall
New York, NY 10007
David Do
Chair, New York City Taxi and Limousine Commission
33 Beaver Street
New York, NY 10004
Re: Comments on proposed rules for TLC's Green Rides Initiative 
Dear Mayor Adams and Commissioner Do:
We write to demand that you amend your Green Rides Initiative proposal so that every for-hire vehicle in New York City is both electric and wheelchair-accessible by 2030. We also insist that you work to reach 100% accessibility in the medallion yellow-taxi fleets at
the same time.
If you take this new approach, you have the potential to revolutionize the nature of the for-hire industry, not only in New York City but across the country, by making accessible, electric vehicles the norm. With more than 100,000 for-hire vehicles on city streets, the time is ripe for the City to assert its influence so that vehicle manufacturers have a strong incentive to produce accessible electric vehicles.
Our groups – disability, transportation and other civil rights organizations alike – applaud the proposal to move toward a zero-emission fleet. We all breathe, so cleaner air through the increased use of electric vehicles will benefit everyone. And cleaner air is of particular importance for the many disabled people who have conditions that are exacerbated by particulate pollution. Since for-hire vehicles make up a significant portion of the city's traffic, with former DOT Commissioner Lou Riccio estimating that for-hire vehicles make up nearly 50% of midtown traffic alone (not including yellow taxis), a transition to electric vehicles has the potential to make a real difference in
reducing pollution here.
But all our groups agree that the right to breathe clean air must not limit the civil rights of disabled people, who have fought hard for decades for more accessibility in the city's medallion and other for-hire services that the TLC regulates.
Download the full document below.
Download

LATEST NEWS
Take Action
Here's what you can do right now for justice in New York…
Stay up to date
Get updates on our cases and campaigns, and join us in taking action for justice…