Ruth Lowenkron Featured on Capitol Pressroom Discussing Daniel's Law Taskforce
September 14, 2023
Baerga v. City of New York, Disability Justice, Health Justice, News, Transforming Mental Health Crisis Response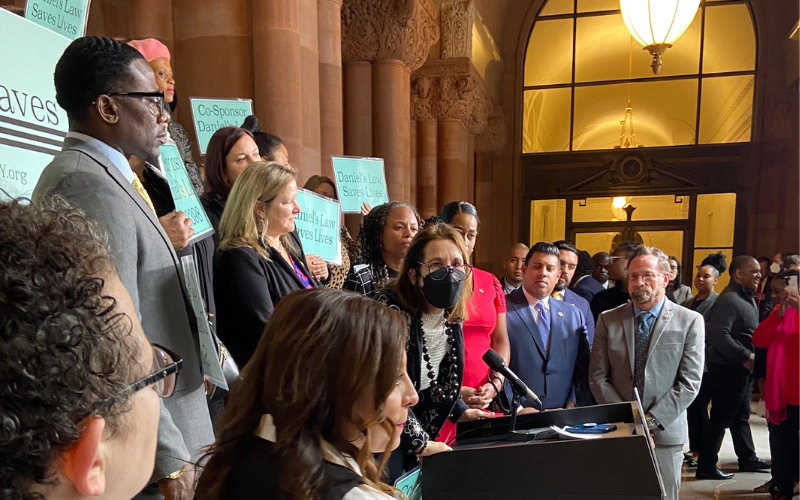 CAPITOL PRESSROOM | SEPTEMBER 2023
Ruth Lowenkron, director of Disability Justice at NYLPI, was featured on WCNY's radio show Capitol Pressroom discussing with David Lombardo the Daniel's Law Taskforce and what coalition partners are doing to make vital changes to mental health crises response services in New York.
"In the last few years alone, there have been 19 people killed at the hands of the police. Advocates in this space recognize that something radically different has to be done and that radically different thing is to remove the police from the equation, and to bring in people who are highly trained but also come with a background in this space of what is called peers — people with lived mental health experience — who are the best people to deescalate a crisis. It's a health matter, it's not a criminal/legal matter, it's not a public safety matter. So that's the whole focus that the coalition I work with in New York, Correct Crisis Intervention Today (CCIT-NY), the Daniel's Law Coalition and what Daniel's Law is all about: trying to transform the way both New York City and New York state respond to mental health crises and recognize it as the health crisis it is and respond accordingly."
Listen to the interview via Capitol Pressroom.
Learn more about NYLPI's work towards Transforming Mental Health Crisis Response.
Photo: Ruth Lowenkron speaks at a Daniel's Law Rally in Albany.

LATEST NEWS
Take Action
Here's what you can do right now for justice in New York…
Stay up to date
Get updates on our cases and campaigns, and join us in taking action for justice…