Waste Transfer Facilities in Jamaica are Violating the Clean Water Act, According to Notices of Intent to Sue from NY/NJ Baykeeper and Riverkeeper
July 19, 2021
Environmental Justice, News, Waste Equity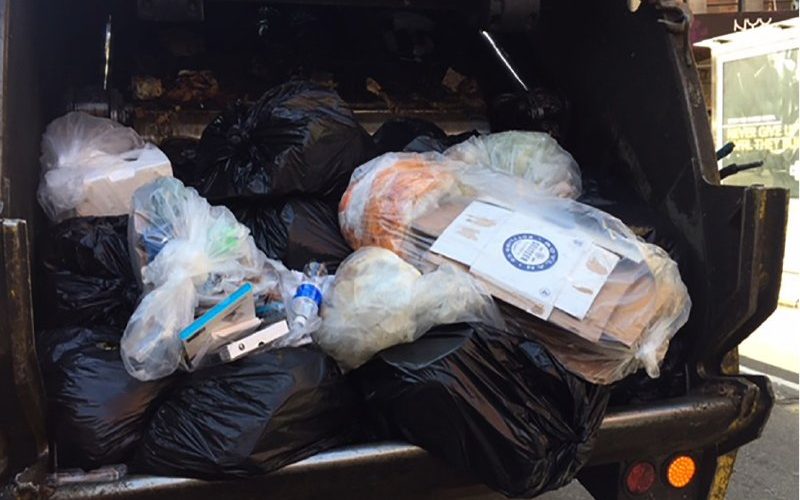 Media Contacts:
NYLPI: Hillary Wasserman, [email protected], 732-778-1896
Waste Transfer Facilities in Jamaica are Violating the Clean Water Act, According to Notices of Intent to Sue from NY/NJ Baykeeper and Riverkeeper
New York – July 19, 2021 – Civil rights advocacy group New York Lawyers for the Public Interest (NYLPI) today sent the companies who own and operate the polluting waste transfer facilities on Douglas Avenue in Jamaica, Queens, Notices of Intent to Sue (the Notices or NOISs) for violating the federal Clean Water Act (CWA). NYLPI, together with environmental law firm the Super Law Group LLC (SLG), are representing environmental organizations NY/NJ Baykeeper and Riverkeeper and their members in the federal legal action.
The Notices allege that waste transfer facilities belonging to American Recycling Management LLC and Regal Recycling Co., Inc. on Douglas Avenue in Jamaica, Queens, are operating in violation of the Clean Water Act by discharging polluted stormwater into Jamaica Bay without obtaining, or meeting the conditions of, the required National Pollution Discharge Elimination System permits. This Notice triggers a 60-day waiting period, required by the federal law, after which a complaint may be filed in federal court.
The facilities' polluting practices do not only affect Jamaica Bay; the residential community that surrounds the facilities in Jamaica, Queens, have faced the harmful impacts of the facilities' pollution for over a decade. As a result of the facilities' practices, community members are subjected to putrid odors, loud noises from truck traffic, and excessive dust from construction and demolition materials.
The New York State Department of Environmental Conservation (DEC) has designated Jamaica Bay as "impaired," or not meeting water quality standards required to support fish habitats or water contact recreation. The DEC cites polluted stormwater runoff as a primary source of pollutants that cause bodies of water, like Jamaica Bay, to be listed as impaired.
Many affected community members testified to the detrimental impacts from these facilities' operations at a New York City Council Sanitation Committee Hearing on June 24. The hearing was held to consider Int. No. 2349, a bill that would allow the companies to increase these facilities' permitted capacity, or the amount of waste they can process each day. Increasing capacity, especially in light of the pollution these Notices allege, would undo the progress made by the Waste Equity Law of 2018, and allow these facilities to continue to operate with impunity.
***
"As the President of the Brinkerhoff Action Association, I know our members live in close proximity to these waste transfer stations, and I am not surprised that these two waste facilities are in violation of the "Clean Water Act." I am also a member of Riverkeeper and Baykeeper and I am very concerned that our waterways remain free of leachate or any toxins that can impact our water supply.  I continue to be concerned for the health and welfare of my neighbors and the families that live directly across the street from the transfer stations as they are constantly exposed to dust, particulate matter and noxious fumes. This is a burden that no one should have to bear. Under the Waste Equity Law we fought for legislation reducing the amount of waste coming into these stations and now it is being asked that we give it all back with the proposed legislation that has been introduced. Please be there for us and our community." Walter Dogan, President, Brinkerhoff Action Association and Member, Riverkeeper and NY/NJ Baykeeper
"I currently serve as the president of St. Albans Civic Improvement Association, which represents a predominantly Black community in Southeast Queens, NY. The members of our community seem to always have to fight tooth and nail for things that should be basic human rights. Now, we must sound the alarm for clean water (and clean air!) in the year 2021 in New York City, USA. Could you imagine? We call for the enforcement of the "Clean Water Act" and the "Waste Equity Law" and a rejection of Intro 2349 in Queens in general and specifically in the area surrounding the waste transfer stations, on Liberty/ Douglas Ave." Oster Bryan, President, St. Albans Civic Improvement Association
"NYLPI has been working with members of communities who have borne the brunt of our waste infrastructure for decades. Residents of this Jamaica, Queens neighborhood have been pushing to get these facilities to be better operators and neighbors since the early 2000s when they were first permitted, so it is high time that this fight be taken to the halls of federal court. The Waste Equity Law was a victory for members of overburdened communities three years ago, but here we stand today, with these very same companies who operate in violation of some of our most sacrosanct environmental laws trying to game the system and get a law passed to waive the capacity reductions imposed by the Waste Equity Law. They should spend less time figuring out how to get around the law, and more time trying to comply with the law," said Melissa Iachan, Senior Supervising Counsel for Environmental Justice at New York Lawyers for the Public Interest, who represents Riverkeeper and NY/NJ Baykeeper in the case.
"We have long known that our Black and Brown communities have served as sacrifice zones for our whole City's garbage, literally. Today's Notice of the intent to file a lawsuit against two of these waste facilities who have taken their Black neighbors for granted for decades is the latest step in a long fight for justice. NYC-EJA stands with the community members in Jamaica. We also echo the community members when we say that it is ludicrous that the NYC Council is currently considering exempting these very same companies from the Waste Equity Law we fought so hard to pass only three years ago." Eddie Bautista, Executive Director of the New York City Environmental Justice Alliance
"For too long the residents of predominantly Black Jamaica, Queens, have borne the brunt of nuisance air emissions, odors, traffic and noise emanating from the waste transfer stations on Douglas Avenue," said Mike Dulong, Riverkeeper Senior Attorney. "The ongoing mismanagement of waste at these facilities has also caused discharges of untreated industrial, chemical, and biological pollution into Jamaica Bay, home to thousands of acres of marsh lands that support 91 species of fish and 325 bird species. With the notice given today, we stand firmly with Jamaica residents and our partner organizations in demanding that these polluters immediately comply with all laws necessary for the protection of community health and our environment."
"Everyone has a right to clean water and healthy communities. However, the reality has been that if you live in an urban neighborhood of color, compliance with, and the enforcement of, environmental laws designed to safeguard people has been lax.  This has allowed indifferent actors, like the companies who own the Douglas Avenue Waste transfer stations to pollute and sicken local communities for decades.  Now, determined residents in Jamaica, Queens, local environmental justice advocates, Superlaw, NYLPI, Riverkeeper and NY/NJ Baykeeper have stepped up to serve notice and force better behavior on negligent polluters and responsibility-shirking government entities."  Greg Remaud, CEO, NY/NJ Baykeeper
"For decades, privately operated waste transfer stations have paid little heed to environmental laws and the impacts of their activities on the quality of life of their neighbors, usually communities of color.  But change is coming. This lawsuit rightly seeks to vindicate environmental rights for neighbors of notorious waste transfer stations and for all New Yorkers.  Every councilmember who is thinking of voting for legislation to expand capacity at waste transfer stations should be required to first read this notice letter," said Eric A. Goldstein, NYC Environment Director at the Natural Resources Defense Council. 
___________________________________________________________________________________
About New York Lawyers for the Public Interest
For more than 40 years, New York Lawyers for the Public Interest has combined the power of law, organizing, and the private bar to make lasting change where it's needed most. NYLPI works toward a New York where all people can thrive in their communities, with quality healthcare and housing, safe jobs, good schools, and healthy neighborhoods. In NYLPI's vision, all New Yorkers live with dignity and independence, with the resources they need to succeed. NYLPI's community-driven approach powers its commitments to civil rights and to disability, health, immigrant, and environmental justice. NYLPI seeks lasting change through litigation, community organizing, policy advocacy, pro bono service, and education. For more information, please visit www.nylpi.org.
About Riverkeeper
Riverkeeper protects and restores the Hudson River from source to sea and safeguards drinking water supplies through advocacy rooted in community partnerships, science and law. Visit us at Riverkeeper.org.
About NY/NJ Baykeeper
NY/NJ Baykeeper is a 501©3non-profit conservation organization that for 30 years has fought for clean water and healthy communities around the densely populated NY/NJ Harbor Region. We do so through strong advocacy, long-standing community partnerships, and suing polluters. Baykeeper is a regional leader in oyster and natural shoreline restoration, urban watershed preservation, and ensuring public access to our urban waterways around NY/NJ Harbor. You can visit us at www.nynjbaykeeper.org.
###
Media Coverage
Queens Coverage: CWA violated, say community leaders
Queens Daily Eagle: Jamaica residents fight waste transfer stations
The City: Council Fast-Tracks Exceptions From Landmark Waste Equity Law, Enraging Queens Residents

LATEST NEWS
Take Action
Here's what you can do right now for justice in New York…
Stay up to date
Get updates on our cases and campaigns, and join us in taking action for justice…