We Won! MTA Appears To Back Down On Planned Access-A-Ride Fare Hike
February 25, 2019
Access-a-Ride Reform Group, Disability Justice, Media Coverage, News
Facing outrage from members of the Access A Ride Reform Group (AARRG!) and numerous other disability rights advocates, the Metropolitan Transit Authority appears to have backed down on plans to raise fares on people with disabilities. The final vote is not until this Wednesday, Feb 27, and so NYLPI and our allies in the reform group were still out in force at this morning's MTA Board hearing, to make sure the board got the message.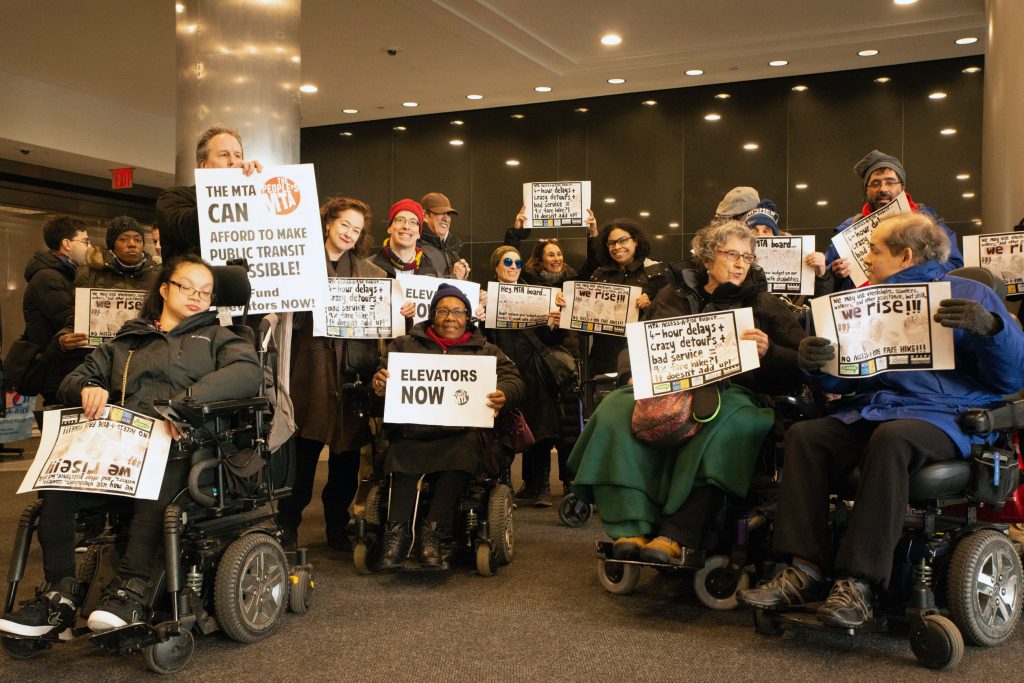 NYLPI's Access-A-Ride Organizer Eman Rimawi spoke with NY1 and AMNY. Dozens of people have also taken the online action asking the board to avoid raising the fares.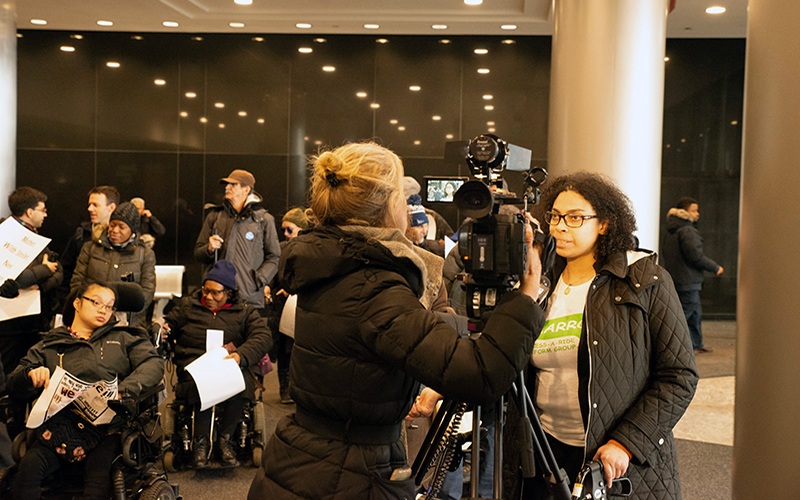 WNYC ran a story this morning quoting Access-A-Ride users on the fare hike, and NYLPI's Disability Justice Director, Ruth Lowenkron:
Ruth Lowenkron, the director of the Disability Justice program at New York Lawyers for the Public Interest (NYLPI), said framing it as an "equality" argument left out an important consideration: Access-a-Ride users would experience a 9.1 percent fare increase per ride, while most MetroCard-using commuters would only see hikes of around 4 percent because of available discounts.

"This is a ridership that is already feeling the pinch by the horrible service, is already feeling the pinch by paying more for every single ride, and will feel a greater pinch than anybody else," she said of a fare hike.

Lowenkron said she's sympathetic to the MTA's budgeting concerns but a major reason New York City has to provide costly paratransit options to so many people is because much of the transit system is inaccessible.
But "agency sources" told the Daily News this morning that the plans for the fare hike are now off the table. The Daily News quoted Joe Rappaport, executive director of the Brooklyn Center for Independence of the Disabled, and a member of the AARRG coalition, in response to the MTA's purported decision to back down:
The decision to hold the base fare steady is a win for mobility-restricted New Yorkers who rely on Access-A-Ride.One of the MTA's fare-hike options was to raise the price of Access-A-Ride trips to $3.

But if the MTA holds to the plan described by The News's sources, Access-A-Ride customers will continue to pay $2.75. Access-A-Ride users never got the 5% multi-ride bonus. If the bonus is eliminated, they'll pay the same as people who use regular subways and buses.

Joe Rappaport, executive director of the Brooklyn Center for Independence of the Disabled, commended the plan to keep the $2.75 base fare.

"That shows they're willing to listen to the disability community and that's a sign of real progress," he said. "Many people with disabilities earn very little money and it just made sense to keep the fare at $2.75."

The MTA board is set to finalize the fare hikes at a meeting Wednesday. Agency spokespeople declined a request for comments on the planned hikes.
So, it appears that we won! Although of course, with the vote on Wednesday, we've got our fingers crossed that the MTA's Daily News "agency sources" are as good as their word, because agency spokespeople declined a request for comments from the Daily News on the planned hikes.
We initially wrote to the MTA back in November 2018, raising our concerns.
Update, feb 27: Crain's ran an op-ed by Eman on the subject:
Crain's New York Business

Don't balance the MTA budget on the backs of people with disabilities

A fare hike for paratransit users would be unconscionable

By Eman Rimawi

People with disabilities have been pushed around long enough. And that's why we've been out in force at recent Metropolitan Transit Authority board meetings—to make sure the MTA got the message that it's unfair, immoral and outrageous to even consider increasing fares on the 144,000 New Yorkers like me, for whom the subway system is simply inaccessible.

The board is scheduled to vote to hike the fare Wednesday, but agency sources told journalists this past weekend that it's not going ahead with plans to increase it for riders with disabilities who use the MTA's paratransit system.

Still, it's been a stressful few weeks, and the MTA really could have saved me and the 100-or-so other people with disabilities who turned out for two February board meetings a lot of stress by never considering this fare hike in the first place.

It's absolutely outlandish to even think about raising fares by 9% when the service remains as appalling as it ever has been—if not worse—for Access-A-Ride paratransit users like me.

As a result of my double leg amputations—one above the knee and the other below—and my need to use a walker, the subway system is simply inaccessible. People in my position must brave Access-A-Ride, or "Stress-A-Ride," as many of us riders call it, if we want to have a life in this great city.

If only the subways were accessible to people with disabilities as they are in countless cities, both here and abroad. If only people weren't dying—literally—from lack of elevators in the subways. The recent tragic death of a young mother with a baby and stroller in her arms has drawn even more critical attention to this issue.

It would be one thing if Access-A-Ride offered parity of service compared with the subway. But most users experience delays of up to four hours, are taken on multi-borough detours, and have to book trips a full day in advance. Until Access-A-Ride is improved, it's particularly unfair to consider raising the fare, which is currently the same as subway and bus riders pay.

A majority of Access-A-Ride users are people of color, and more than half of us are low-income. We come from groups of people who are already oppressed; to further disenfranchise us because of our disabilities is wholly inconsistent with New York being the "fairest city in the world," as I've heard Mayor Bill de Blasio describe it recently.

Before I got my current job, I was making less than $800 a month, and three- quarters of that went toward rent. I've skipped lunches and postponed seeing friends or family because I had to save money for Access-A-Ride. And I am not atypical.

Sure, New York's political leaders talk about fixing the subways, but only a quarter, or 117, of the 472 subway stations are wheelchair-accessible, with elevator access to the mezzanine and platforms. And the few stations that are accessible are "out of service" far too often.

In 2017, the MTA board proposed a similar fare increase for Access-A-Ride but the governor put a stop to it. Yet this year, once again, board members considered a similar proposal, which would hit people with disabilities the hardest. And they've only dropped it this time, we hope, at the 11th hour.

Isn't there something that can be done—like congestion pricing—that would prevent people like me from having to raise our voices every couple of years on this issue, as political Band-Aids are applied left and right? I hope so. Our leaders must not stand by while vulnerable populations are shunted back and forth. They must work together for the good of all.

The MTA should not even consider balancing its budget on my back.

Eman Rimawi is the Access-A-Ride reform organizer at New York Lawyers for the Public Interest.

LATEST NEWS
Take Action
Here's what you can do right now for justice in New York…
Stay up to date
Get updates on our cases and campaigns, and join us in taking action for justice…