We Won! Passing the Climate Leadership and Community Protection Act…
June 20, 2019
Environmental Justice, Legislative, News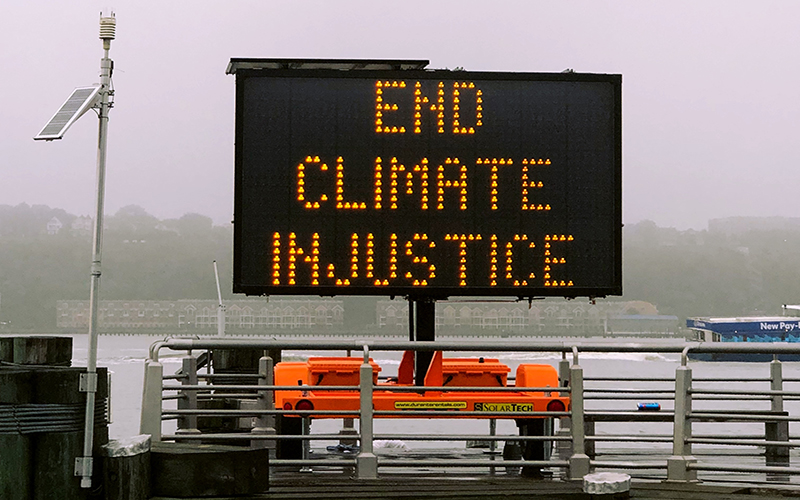 As New York prepares to pass the nation's most ambitious climate legislation, NYLPI takes pride in the impact of our tremendous advocacy as part of the
New York Renews
coalition that got us to this point.
The Climate Leadership and Community Protection Act puts New York on a path to 85% reductions in greenhouse gas emissions from 1990 levels by 2050 (with an offset of the remaining 15%). The vision and mobilization of community, faith, environmental justice, labor and environmental groups around the state drove this result.
New York Renews confronts the climate crisis with the urgency that is required – and makes sure that racial, social and economic justice are central to our response to that crisis.
As one of the leaders of the policy team that drafted the bill, New York Lawyers for the Public Interest worked from the beginning to craft the strongest possible protections for the communities that have borne the brunt of pollution and fossil fuel infrastructure for years. And in final negotiations, NYLPI worked to ensure those protections remained strong in the face of skepticism about their significance. The final result does not include the enforceable commitments to invest in marginalized and climate-vulnerable communities that we wanted, but investment targets remain and environmental justice is baked into the legislation throughout:
– A working group will use data on income, environmental pollution, unemployment, energy burden, race and ethnicity, vulnerability to sea-level rise and other impacts of climate change to map communities throughout the state that need investment and prioritization.
– Measures to reduce greenhouse gas emissions must prioritize reducing pollution in those communities
– Investments in energy efficiency should prioritize these communities.
– The state must consider impacts on workers in industries that will be affected and ensure newly created jobs target those who need them most.
– No carbon offsets can disproportionately burden environmental justice communities, and offsets should prioritize local projects that provide public health and environmental benefits.
We cannot solve the climate crisis without addressing the history of marginalization, disinvestment and environmental racism that has left many low-income communities and communities of color in New York to bear the disproportional burden of fossil fuel pollution. The new law sets a goal for the state and a basic framework for how to get to a low-emission future – but it doesn't tell us exactly how. We will now need to figure out the details, and NYLPI is committed to doing our part with NY Renews to ensure that the regulations, incentives, investments, and decisions that will guide the state into a renewable energy economy will be equitable and just.
The bill's progress to passage was covered by the New York Times.

LATEST NEWS
Take Action
Here's what you can do right now for justice in New York…
Stay up to date
Get updates on our cases and campaigns, and join us in taking action for justice…